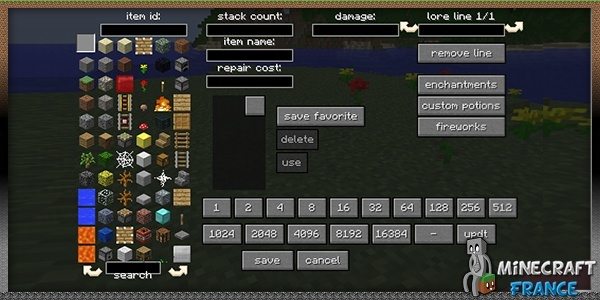 Auteur : mister_person
Version de Minecraft : 1.7.10
Version du mod : 2.1
Bonjour, chers membres de la communauté minecraftienne !
Aujourd'hui, nous allons parler de All-U-Want, ce mod vous permet de, à la manière de Too Many Items ou de Not Enough Items,  créer ou éditer n'importe quel item ou entité. Pour ouvrir son menu, entrez dans votre inventaire et appuyez sur R pour vous donner un item et R en visant un bloc pour faire apparaître une entité ou un spawner.
Ses possibilités sont multiples :
Ajouter des enchantements aux livres , armes ou outils jusqu'au niveau 32767 !
Ajouter des attributs aux items.
Des noms customs.
Editer n'importe quel "tile entity" comme, par exemple, mettre une créature dans un mob spawner et mettre comme paramètre, 10 mob chaque seconde. Vous pouvez mettre un panneau avec un texte coloré. Créer un beacon qui tue tout le monde avec l'effet du wither et du poison !
Et même ajouter n'importe quel aspect sur n'importe quelle entité tel que nous montre l'auteur comme exemple :
Have you never wanted an falling anvil riding an invincible creeper with a block of diamond on its head riding a spider with fire resistance riding an invisible saddled pig? Well now you can have one.

Traduction : N'avez vous jamais rêvé d'une enclume en train de tomber sur un Creeper invincible avec un bloc de diamant sur sa tête, chevauchant une araignée avec Fire Resistance, elle même chevauchant un cochon sellé et invisible ! Maintenant vous pouvez en avoir un !
Il existe un plugin de serveur permettant de restreindre l'utilisation du mod en multijoueurs ! Mais il n'est qu'en 1.6.2 !
Screenshots :
Téléchargements :
[1.7.10] All-U-Want[1.7.10] Forge
Installation
Commencez par télécharger Forge Installer. Une fois que cela est fait, ouvrez-le et cliquez sur
Install Client
.
Lancez Minecraft et sélectionnez le profil Forge. Entrez vos identifiants à nouveau et cliquez sur
Play
pour finaliser l'installation de Forge.
Ensuite, trouvez votre dossier
.minecraft
:
Windows : Allez dans le menu Démarrer, puis rendez-vous dans Exécuter. Sinon, faites Touche Windows + R. Ensuite, tapez %appdata% dans la barre de recherche, puis allez dans le dossier .minecraft.
Linux : Appuyez en même temps sur ALT + F2. Vous devriez normalement avoir votre .minecraft.
Si vous ne le voyez pas, activez les dossiers cachés avec la combinaison CTRL + H.
Mac : Votre dossier minecraft se trouve dans Utilisateur > Bibliothèque > Application Support.
Si vous ne trouvez pas Application Support, faites Finder > Barre des menus : Aller + Maintenir ALT > Bibliothèque.
Glissez ensuite le .jar de votre mod préalablement téléchargé dans le dossier mods, qui se trouve dans votre .minecraft.
Lancez le jeu, et amusez-vous bien !