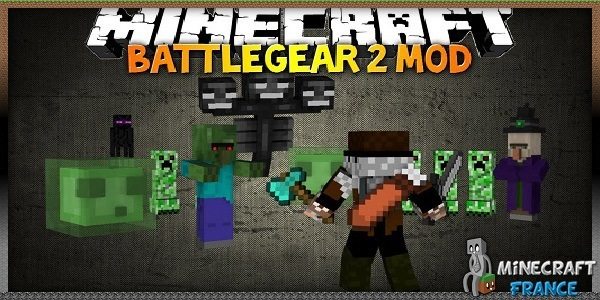 Auteur : Mine_and_Blade_Admin
Version de Minecraft : 1.7.10
Version du mod : 1.0.5.7
Mine & Blade Battlegear est un mod permettant de revoir totalement le système de combat dans Minecraft car il faut l'avouer, dans le jeu il reste assez basique. À présent, vous allez pouvoir utiliser de nouvelles armes, être équipé de plusieurs armes sur vous, pouvoir utiliser deux armes en même temps ou encore vous défendre avec un bouclier. Vous êtes intéressé ? Voici comment il fonctionne !
Fonctionnement du mod :
Système d'armes / Ambidextrie :
Ce mod introduit donc un nouveau système d'arme à Minecraft. Il permet au joueur d'avoir jusqu'a 3 combinaisons d'armes et il vous sera facilement possible de sélectionner celui que vous voulez avec la roulette de la souris. Par défaut, toutes les armes peuvent être placées dans le nouveau système et s'il s'agit d'une arme d'un mod, ça devrait fonctionner sans problème. Si vous souhaitez switcher entre votre barre d'inventaire et la barre des armes, utilisez la touche R.
Exemple de switch d'arme :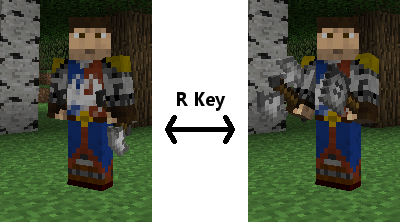 Vous pouvez placer vos objets via une nouvelle interface en cliquant sur le bouton BG quand vous accédez à votre inventaire.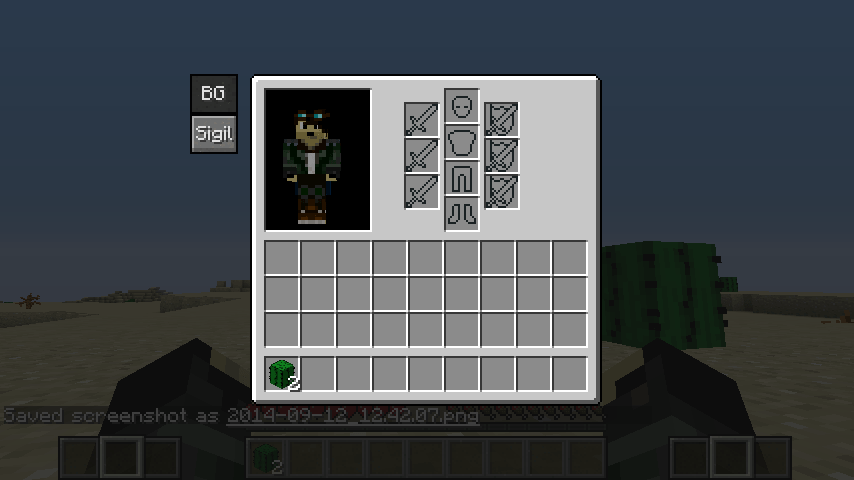 Lorsque vous utilisez l'ambidextrie du mod, il est à noter que la main gauche attaquera avec le bouton droit de la souris et la main droite avec le bouton gauche de la souris.
Les boucliers :
Mine and Blade 2 introduit un nouveau système de défense différent de celui que vous connaissez quand vous vous protégez avec votre épée. En effet, grâce au bouclier, celui-ci réduira les dégâts que vous subissez, mais il vous protègera également sur un rayon de 120 ° autour de vous lorsque vous vous faites attaquer par des flèches d'arc. Par contre, afin que cela ne soit pas cheaté, l'auteur à ajouté une barre de stamina qui une fois épuisé, annulera votre défense.
Craft du bouclier :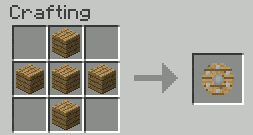 Lorsque vous êtes touché par des flèches, celle-ci apparaissent sur le bouclier. Vous pouvez les récupérer en mettant le bouclier dans l'inventaire. Autre spécificité du bouclier, il peut servir de contre attaque. En effet, en utilisant l'attaque spéciale de celui-ci (s'active avec la touche Z par défaut) vous pouvez mettre un coup de bouclier qui fera basculer le mob en arrière. Cette attaque n'est pas sans risque, car pendant une demi-seconde, vous ne pouvez plus attaquer. Pour terminer avec ce fameux bouclier, vous pouvez teindre le bouclier et effacer sa couleur avec un seau d'eau.
Les armes et armures :
Toutes les armes et armures du mod peuvent être enchantées comme les armes par défaut de Minecraft et également réparable avec une enclume.
La hache de guerre :
Bien que la hache de guerre fasse moins de dégât qu'une épée sur un mob sans armure, celle-ci est capable de transpercer les armures ce qui la rend très dangereuse pour un ennemi en armure. .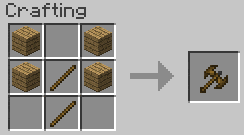 La masse :
La masse est une arme parfaite pour étourdir les ennemis. (Utilise différents effets de potions)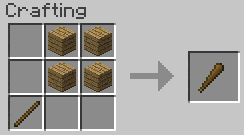 La lance :
La lance est une arme parfaite pour ceux qui aiment combattre avec une certaine distance. (Pitiez, ne faites pas comme Oberyn dans Games Of Throne…)
La dague :
La dague contrairement aux autres armes à l'avantage d'être rapide, cependant, elle fait moins de dégât sauf si vous attaquez de dos.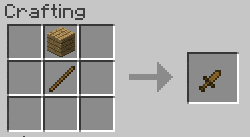 Armure en chaine :
Le mod vous permet d'obtenir l'armure en chaîne d'une nouvelle manière. Commencez par créer votre chaîne en plaçant deux lingots de fer l'un à côté de l'autre :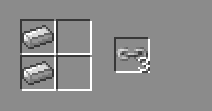 Puis, il suffit de les assembler :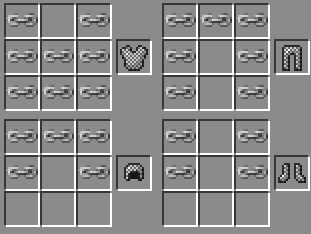 Carquois :
Le carquois est un petit élément qui a la possibilité d'empiler quatre fois plus de flèches qu'un stack de flèches dans Minecraft.

Craft du carquois :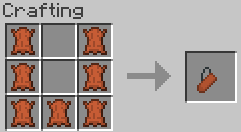 Pour y insérer des flèches, mettez-le dans votre table de craft puis glissez-y les flèches que vous souhaitez :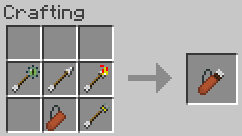 Vous pouvez vider votre carquois en faisant un clic droit dessus. Le carquois peut également être teint et avec un seau d'eau retrouver sa couleur d'origine . Une fois que vous avez un carquois chargé dans votre inventaire, un arc videra les flèches présentes dans votre carquois article plutôt que d'utiliser les flèches libres dans votre inventaire. Avec un arc équipé, une barre personnalisée apparaît, montrant les fentes du carquois. Vous pouvez donc switcher entre vos flèches facilement. Dernière chose, le carquois apparaîtra dans le dos du joueur.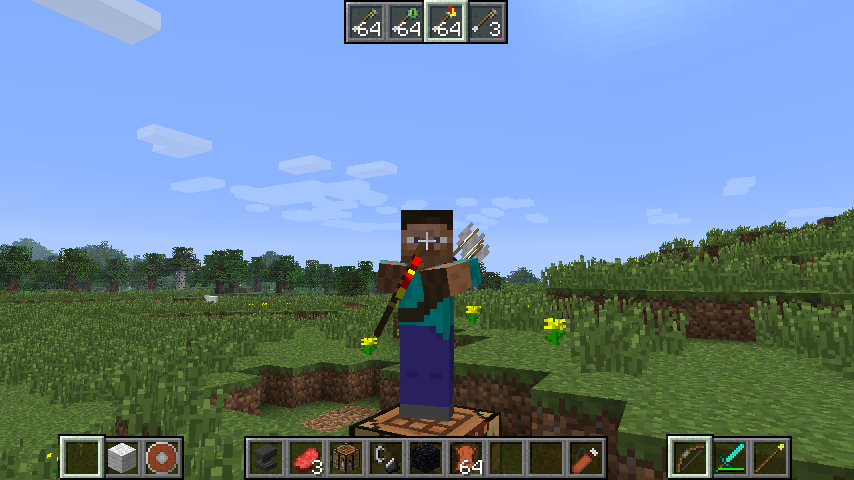 Les flèches :
Ce mod ajoute 7 nouvelles flèches qui peuvent être tirées avec le carquois.
La flèche de feu :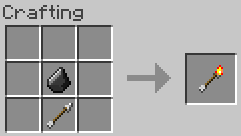 Cette flèche permet de mettre en feu tout ce que vous touchez.
La flèche explosive :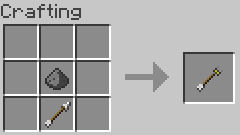 Cette flèche explosera au moindre contact et permet également de faire diversion.
La flèche d'ender :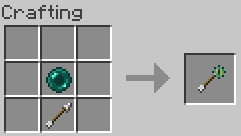 Cette flèche permet de vous téléporter la ou la flèche atterrira.
La flèche empoisonnée :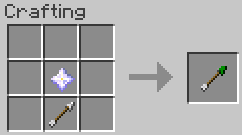 Cette flèche empoisonnera de la même façon qu'un Wither vous empoisonne.
Flèche en diamant :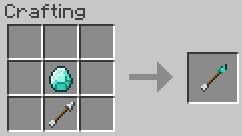 Cette flèche permet de traverser les armures et les blocs de verre.
La flèche mystère :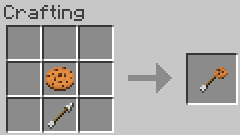 Une flèche avec un effet bizarre. Regardez sa description en jeu et vous aurez peut être un indice.
La flèche sangsue :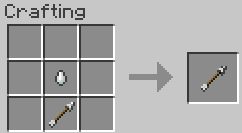 Cette flèche absorbe l'énergie vitale de votre ennemi pour vous soigner. Elle ne tuera pas un ennemi, mais permettra de vous sortir d'une galère.
Une rumeur dit que les squelettes seraient capables d'utiliser ces flèches. Heureusement pour vous, ils ne sont pas assez intelligents pour les mettre dans leur carquois.
Mise à jour du mod :
Un autre avantage de ce mod est l'intégration du M.U.D (Mod update Detector). En effet, pas besoin d'aller régulièrement voir si une mise à jour du mod est disponible, mud va le faire pour vous. Pour cela, il suffit d'aller dans l'écran de pause et de cliquer sur Mod Update Detector. Si une mise à jour est disponible, il vous indiquera le changelog et proposera de la télécharger.
Téléchargements :

Mine & Blade: Battlegear 2 [1.7.10]Forge [1.7.10]
Installation
Commencez par télécharger Forge Installer. Une fois que cela est fait, ouvrez-le et cliquez sur Install Client.
Lancez Minecraft et sélectionnez le profil Forge. Entrez vos identifiants à nouveau et cliquez sur Play pour finaliser l'installation de Forge.
Ensuite, trouvez votre dossier .minecraft :
Windows : Allez dans le menu Démarrer, puis rendez-vous dans Exécuter. Sinon, faites Touche Windows + R. Ensuite, tapez %appdata% dans la barre de recherche, puis allez dans le dossier .minecraft.
Linux : Appuyez en même temps sur ALT + F2. Vous devriez normalement avoir votre .minecraft.
Si vous ne le voyez pas, activez les dossiers cachés avec la combinaison CTRL + H.
Mac : Votre dossier minecraft se trouve dans Utilisateur > Bibliothèque > Application Support.
Si vous ne trouvez pas Application Support, faites Finder > Barre des menus : Aller + Maintenir ALT > Bibliothèque.
Glissez ensuite le .jar du mod dans le dossier mods, qui se trouve dans votre .minecraft.
Lancez le jeu, et amusez-vous bien !