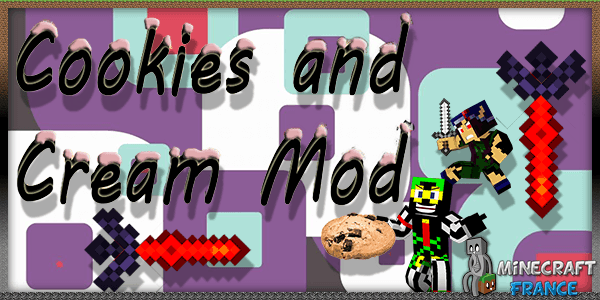 Auteur : batraven02
Version de Minecraft : 1.7.10
À première vue, si on prend l'intitulé de ce mod tel quel (des cookies et de la crème), on aura tendance à penser qu'il ne s'agit que d'un simple ajout culinaire. Mais si on y regarde d'un peu plus près on se rend vite compte que ce n'est pas du tout le cas, bien au contraire.
Loin des plaisirs de la table, batraven02 nous offre ici un mod incluant quelques archétypes, déjà bien connus du monde de Minecraft, tels que de nouvelles armures et quelques lames bien aiguisées pour les fans des combats à l'épée.
Alors, pourquoi un tel nom ?
Il l'explique par le fait qu'il souhaitait ici faire un contrepied au minecraft non moddé qu'est Vanilla. L'inverse d'un minecraft non moddé pourrait alors se nommer "chocolat", celui-ci étant opposé à la vanille. Mais ici, batraven02 a décidé de créer un mod neutre, qui à la fois ne buff ni ne nerf le minecraft d'origine, mais simplement se marie avec. En ce cas, c'est un mélange vanille-chocolat qu'il a délicatement nommé "cookies and cream". Le "cookie" représentant le côté "chocolat" et le "cream", le côté "vanille".
Mais cette neutralité désirée n'est pas en reste puisque l'on retrouve une petite touche personnelle avec l'implémentation des Mauls (massettes en Français) ainsi que quatre cubes étranges et quelques minerais. L'humour étant également présent, batraven02 s'étant amusé à glisser quelques Easter Eggs qu'il vous faudra trouver. Mais attention, il vaut mieux être anglophone pour cela.
Les Armures
Les Mauls
Vous aurez la possibilité de miner avec cet outil, mais il vous faudra porter attention à la fois à la dureté de la Maul que vous posséderez ainsi qu'à celle du minerai que vous souhaitez miner.
En effet, une Maul ne peut miner QUE des minerais dont la dureté est inférieure à la leur (indiqué par leur attack damage).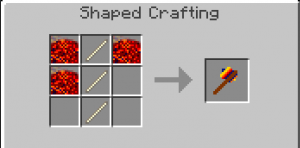 Maul de Flame : +9.5 Attack damage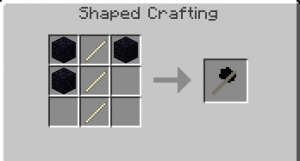 Maul d'obsidienne : +8.5 Attack damage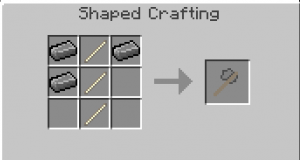 Maul de steel : +7 Attack damage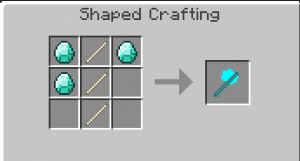 Maul de diamant : +6.5 Attack damage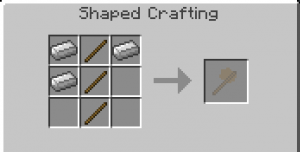 Maul de fer : +5.5 Attack damage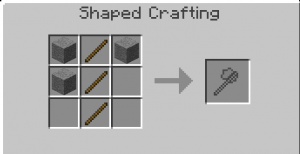 Maul de pierre pure (pur stone) : +5 Attack damage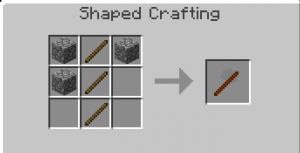 Maul de pierre (stone) : +4.5 Attack damage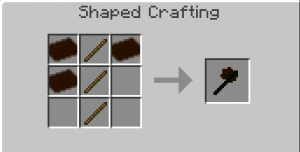 Maul de bois dur (hard-wood) : +4.25 Attack damage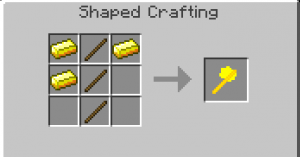 Maul en or (gold) : +3.5 Attack damage

Maul de bois (wood) : +3.5 Attack damage
Couteaux et lames (knifes and blades)
En terme d'utilité, le couteau sera tout aussi bien une arme de poing qu'un outil. Vous aurez la possibilité de détruire des blocs tout autant que d'attaquer avec cette arme. Il vous faudra toutefois faire attention, car il ne vous sera pas donné la possibilité de parer une attaque avec.
Voici tous les types de couteaux et de lames que vous trouverez dans ce mod :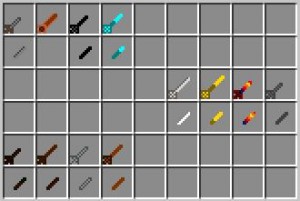 Nous trouvons ci-dessus les couteaux/lames de "pure stone", de "wooden knife (has sheath)" (pas de lame, il s'agit d'un fourreau à couteau), d'Obsidienne, de Diamand en haut à gauche. Ceux de Iron, Gold, Flame et Stone au milieu à droite. Et enfin ceux de "Hard wood", Dirt, Wooden et Steel en bas à gauche.
Le craft des lames se fait comme suit :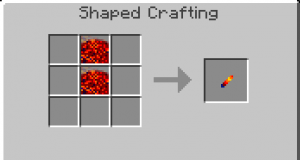 Ajoutez à cela du flint et un bâton et vous obtiendrez un couteau :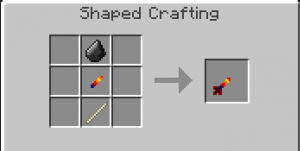 Haches, épées, pioches, pelles et faux
On retrouve ici les matières suivantes : (de haut en bas)
– La flamme (Flame)
– L'obsidienne
– La pierre (Stone)
– Le bois (Wood)
– Une matière sans nom représentant les USA
– Le métal (Steel)
– Le bois dur (Hard-Wood, à droite)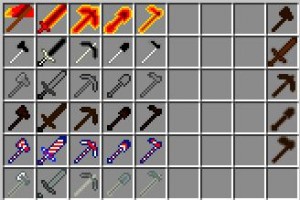 C'est en se penchant sur cette étrange matière représentant les USA que l'on voit que l'auteur de ce mod a voulu implémenter quelques Easter eggs. Ici on retrouvera donc un joli clin d'oeil à sa mère patrie :
Cette pioche se traduirait comme la "Force des Travailleurs Américains"

La pelle, quant à elle, rappelle l'histoire même de ce pays avec ce nom, les "Pionniers Américains"

La hache se ramènera au côté sauvage de ce pays en se nommant le "Bûcheron Américain"

Et voici le meilleur pour la fin, l'"Arsenal de la Démocratie"

En vrac
Les cubes
Des quatre cubes implantés dans ce mod, seul trois d'entre eux auront une utilité. Le dernier n'étant qu'un simple cube de décoration.
Le cube Jokebox
(et non pas jukebox !) ne sert à rien. Si on traduit son nom tel quel, la "boîte à blague", on se demande si sa présence n'en est pas une :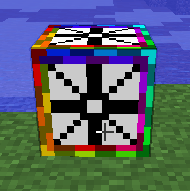 Le cube fontaine: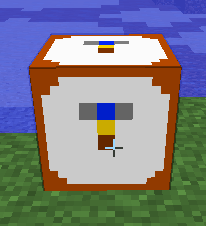 Une fois posé à terre, frappez dessus pour obtenir ceci :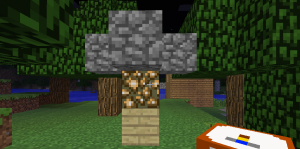 De cette structure émanera une fontaine si vous frappez encore une fois au niveau du cube de glowstone :
Le cube de la maison de bois: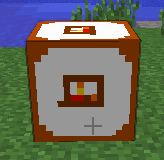 Une fois à terre, frappez le pour faire apparaitre une maison de bois :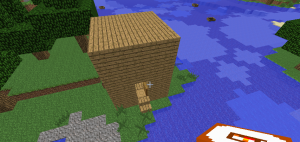 Vous y trouverez quelques items bien utiles préassemblé :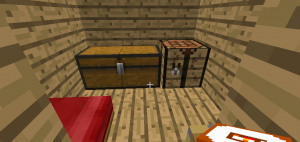 Le cube de la maison de briques :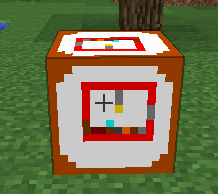 Frappez dessus pour la faire apparaitre :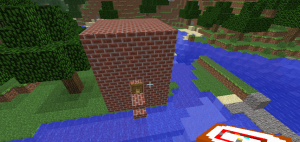 Et entrez dedans pour y découvrir ce qui vient avec :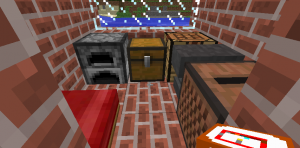 Vidéo :
[youtube]https://www.youtube.com/watch?v=c-Ml1I7-MPw[/youtube]

Téléchargement :
Installation
Commencez par télécharger Forge Installer. Une fois que cela est fait, ouvrez-le et cliquez sur
Install Client
.
Lancez Minecraft et sélectionnez le profil Forge. Entrez vos identifiants à nouveau et cliquez sur
Play
pour finaliser l'installation de Forge.
Ensuite, trouvez votre dossier
.minecraft
:
Windows : Allez dans le menu Démarrer, puis rendez-vous dans Exécuter. Sinon, faites Touche Windows + R. Ensuite, tapez %appdata% dans la barre de recherche, puis allez dans le dossier .minecraft.
Linux : Appuyez en même temps sur ALT + F2. Vous devriez normalement avoir votre .minecraft.
Si vous ne le voyez pas, activez les dossiers cachés avec la combinaison CTRL + H.
Mac : Votre dossier minecraft se trouve dans Utilisateur > Bibliothèque > Application Support.
Si vous ne trouvez pas Application Support, faites Finder > Barre des menus : Aller + Maintenir ALT > Bibliothèque.
Glissez ensuite le .jar de votre mod préalablement téléchargé dans le dossier mods, qui se trouve dans votre .minecraft.
Lancez le jeu, et amusez-vous bien !