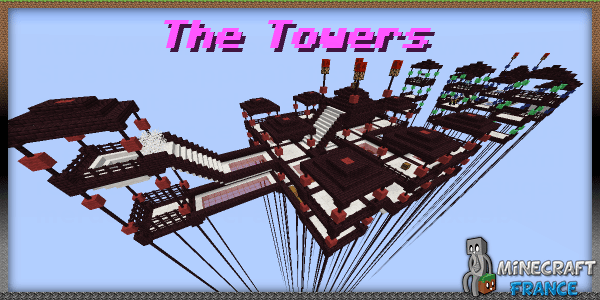 Auteur : Quijx
Type de map : PvP, Stratégie
Version de la map : 1.1.0 (pour Minecraft 1.8)
Bonjour ou bonsoir tout le monde !
Il est très peu probable que vous n'ayez jamais entendu parler de cette map une fois dans votre vie. The Towers, la map PvP par excellence, vient de subir une énorme mise à jour qui a pris à son auteur des semaines entières de travail ! L'occasion parfaite pour vous présenter de nouveau ce chef-d'œuvre.
Présentation :
The Towers est une map créée par Quijx dont le concept est plutôt simple : votre but sera de vous introduire dans le camp adverse et d'aller marquer des points en vous jetant dans une sorte de piscine située au cœur de la base ennemie. La première équipe à totaliser 10 points remporte la partie !
Dès votre départ, il sera mis à votre disposition des coffres contenant le nécessaire pour entamer votre stratégie : des arcs, des blocks, du bois, etc. Et pour vous aider à ratatiner l'équipe adverse, d'autres petits coffres sont dispersés au sein de votre base. Chacun d'eux possède un ou plusieurs objets qui vous seront utiles à un moment ou un autre de votre aventure : des minecarts à l'enderpearl, en passant par les potions et les œufs de blaze, absolument tout peut vous aider à faire la différence !
En plus des deux camps, la map est composée de 3 tours très intéressantes situées juste au milieu, entre les bases. Sur la tour centrale se trouve à son sommet un beacon à rapporter et à poser chez soi tandis que, sur les tours opposées spawnent des lingots de fer et du lapis-lazuli : pratique pour vos armures et vos enchantements ! La bataille sans fin pour le contrôle du "mid" va pouvoir commencer !
Alors, êtes-vous prêts à vous affronter des centaines et des centaines de fois dans l'incontournable map PvP revue dans son intégralité ?
Les règles :
Vous pouvez vous servir des crafts.
Vous pouvez placer et détruire autant de blocs que vous le souhaitez.
Vous pouvez piller les coffres adverses, mais pas les détruire.
Vous trouverez des minecarts à TNT, il vous est interdit de détruire des coffres adverses avec.
 Nos petits conseils : 
Selon l'auteur, la map est faite pour des équipes de 3 à 5 joueurs.
Des armures en fer seront très utiles pour l'attaque comme pour la défense : pensez-y !
Pour l'attaque :

Des attaques rapides tout seul en servant d'appât peuvent occuper quelques adversaires pendant que d'autres coéquipiers passent.
Des attaques kamikazes ne seront efficaces que si vous enlevez quelque chose à l'équipe adverse : mangez leurs pommes, buvez leurs potions, pillez leurs coffres…
Ne prenez le stuff important (plume, pommes…) que lorsque vous pensez que cela est nécessaire ! Vous n'avez le droit qu'à une seule chance avec.
Si vous sentez que vous allez mourir, jetez-vous dans le vide plutôt que de donner du stuff gratuit à votre adversaire.

Pour la défense : 

Protégez votre piscine en l'entourant de blocks, en solidifiant son toit… Rendez son accès difficile en posant des dalles en-dessous, en enlevant l'escalier qui y mène…
Si vous arrivez au milieu en premier, essayez de protéger un maximum ce dernier avec des blocks (bois de préférence), pour retarder l'équipe adverse.
Afin d'empêcher au maximum les vols dans votre salle des coffres, cassez le verre et isolez totalement la salle avec des blocks : une seule entrée/sortie !
Dès le départ, pensez à aller ramasser le contenu important des coffres de la base (pomme d'or enchantée, seau d'eau, enderpearl…).
 Screenshots :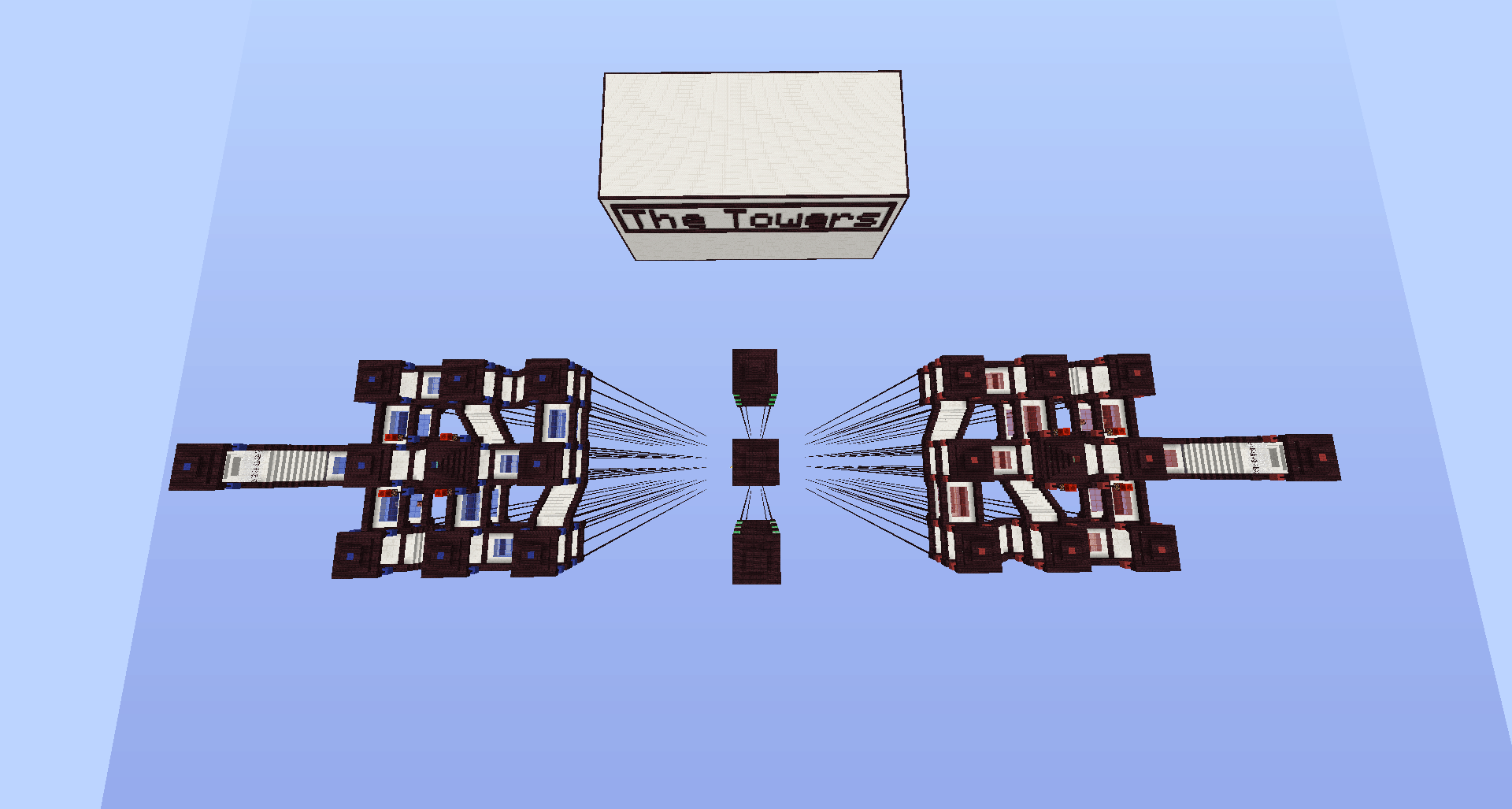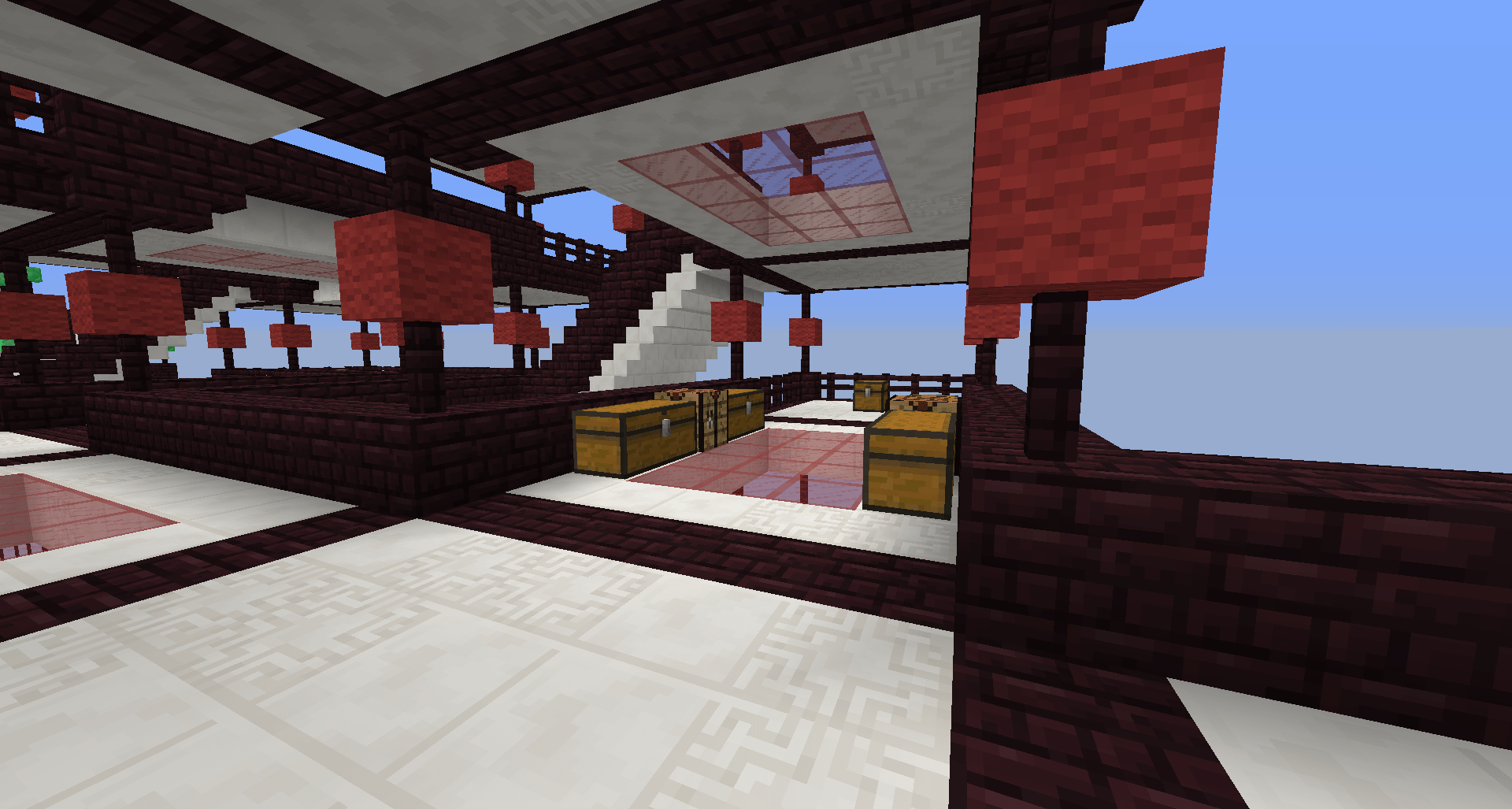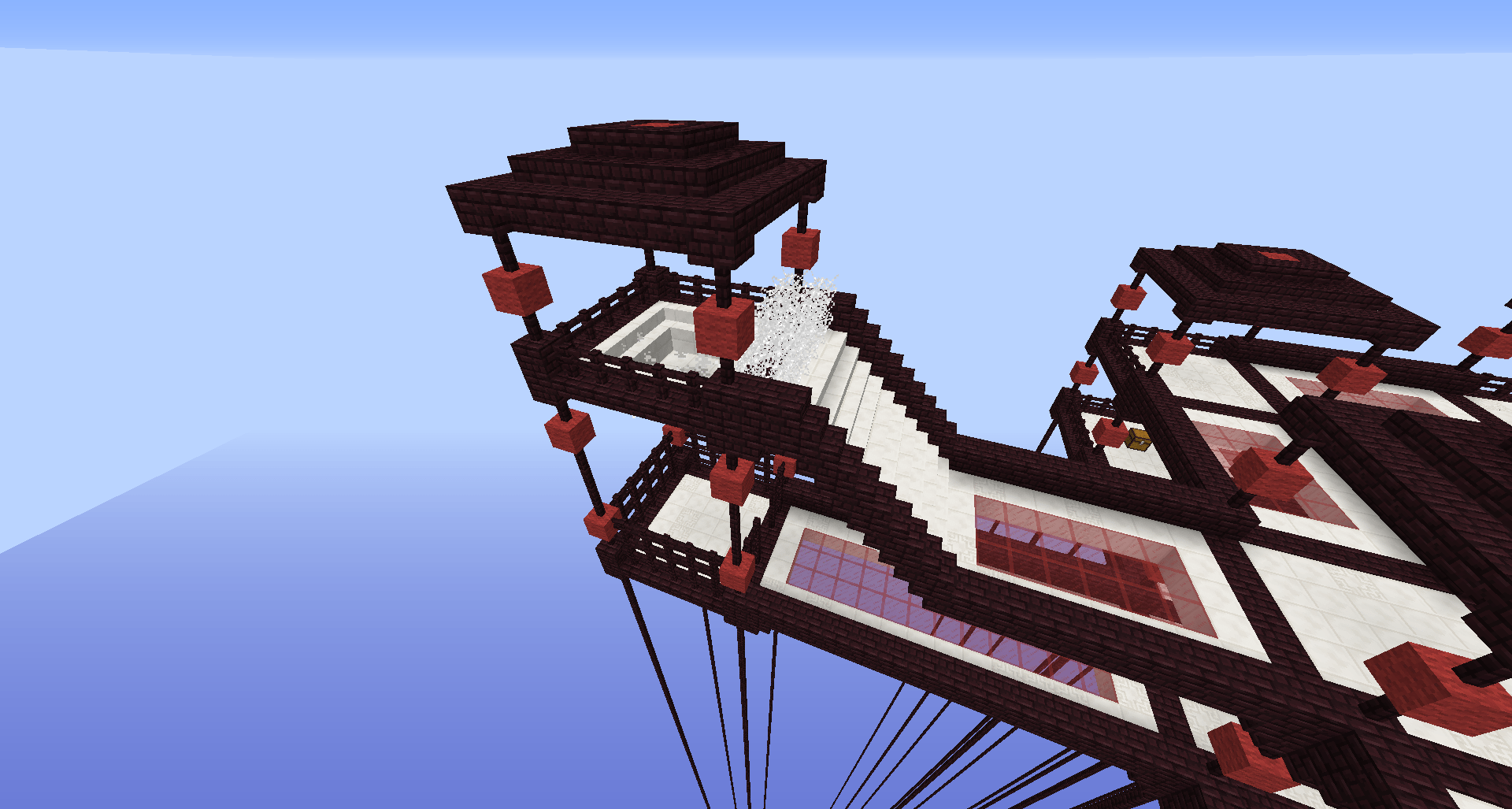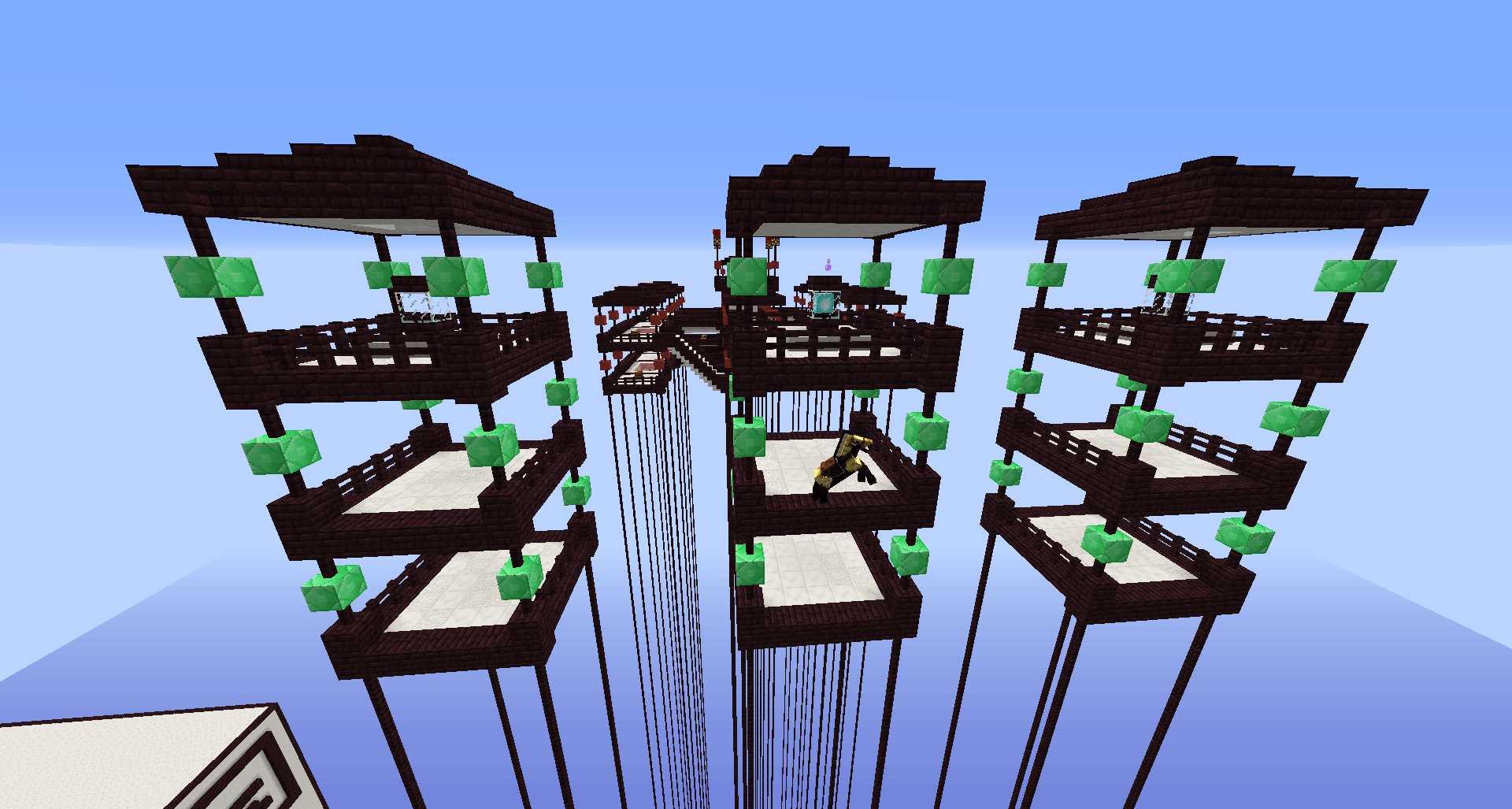 Téléchargement : 
The Towers n'est compatible qu'en 1.8 ou une version ultérieure. Amusez-vous bien !
Changelog de la 1.1.0 (traduit en FR)
Les kills, morts, points des joueurs et points des teams seront désormais affichées à la fin de la partie.
Vous gagnez maintenant 4 XP et vous entendrez un son si vous tuez quelqu'un.
Ajout du verre sur le sol.
Changement du spawn des fioles d'expérience par du lapis-lazuli (à cause du nouveau système d'enchant).
Ajout de particules vers les spawn lingot de fer/fioles d'expérience, dans la piscine et quand vous respawnez.
Vous regardez à nouveau dans la bonne direction quand vous respawnez.
Ajout d'un super-cheval au milieu de la map.
La piscine et le spawn sont désormais protégés contre le placement/minage de blocks.
Ajout du mode spectateur, suppression de la plateforme d'observation.
Suppression de la fonctionnalité qui permettait de rejoindre une partie pendant son déroulement (à cause du mode spectateur).
Vous ne pouvez plus marquer de points lorsque vous êtes morts.
Remplacement du bois d'épicéa pour du bois normal.
L'enchantement Recul de la Harmless Feather est passé de II à I. Il a été supprimé sur la Rod of Fire.
Suppression de l'oeuf de cochon et son stuff qui va avec pour le remplacer avec 8 lingots de fer et une perle du néant.
Augmentation du nombre de fioles d'expérience dans le coffre d'enchantement de 4 à 8.
Ajout des potions de saut dans le coffre de potions.
Ajout d'une potion d'invisibilité de 20 secondes sur la balise située du milieu.
Remplacement des lianes par des échelles dans le coffre.
Ajout de quelques sons.
Ajout d'autres petits changements et beaucoup de bugs fixés.
Installation
Téléchargez la map. Puis trouvez votre dossier
.minecraft
:
Windows : Allez dans le menu Démarrer, puis rendez-vous dans Exécuter. Sinon, faites Touche Windows + R. Ensuite, tapez %appdata% dans la barre de recherche, puis allez dans le dossier .minecraft.
Linux : Appuyez en même temps sur ALT + F2. Vous devriez normalement avoir votre .minecraft.
Si vous ne le voyez pas, activez les dossiers cachés avec la combinaison CTRL + H.
Mac : Votre dossier minecraft se trouve dans Utilisateur > Bibliothèque > Application Support.
Si vous ne trouvez pas Application Support, faites Finder > Barre des menus : Aller + Maintenir ALT > Bibliothèque.
Ouvrez l'archive de la map, et transférez le dossier de la map dans le dossier saves, qui se trouve dans votre .minecraft.
Lancez le jeu, et amusez-vous bien !