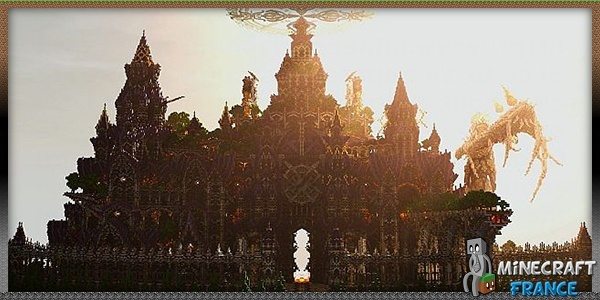 Auteur: RamboSmile
Version: 1.7.x
Bonjour à tous, je suis Pumafi, donc l'un des nouveaux rédacteurs. Cet article est par conséquent mon premier article sur le site. Et je dois dire que je suis assez content de pouvoir le faire sur une map magnifique: Angelius – The God Spawner ! de RamboSmile. RamboSmile ne doit pas vous être inconnu puisque certaines de ses créations sont déjà passées par la case Minecraft-France.
Fidèle à la réputation du créateur de la DeepAcademy, cette map ayant demandé 3 mois de travail m'a charmé.
Elle représente un somptueux palais alliant magie divine, architecture soignée et nature riche. Tout en hauteur grâce aux nombreuses tours et statues, il se compose d'un bâtiment principal très symétrique, mais si complexe que cette symétrie ne se remarque pas au premier abord. Un mur finement sculpté encercle le tout. Mais nous trouvons aussi un bâtiment secondaire, toujours dans le même style que le premier et relié au premier par un pont sur lequel poussent quelques arbres.
Deux points attirent l'œil dans cet ensemble. Le premier c'est évidement cette tour centrale que couronne une émanation ésotérique, signe que la magie opère bien en ces lieux disproportionnés.
Le second, vous le verrez en visitant, c'est cette statue d'ange titanesque, impressionnante par sa taille et la qualité de ses détails. Ses ailes sont déployées et ses mains sont tendues comme pour faire don des flammes qui en jaillissent.
Outre cela, nous pouvons remarquer une abondance de jardins et de fontaines sur les flancs des bâtiments, mais aussi sur leurs toits et sur de nombreuses terrasses.
En visitant les alentours, hors le paysage de collines et de montagnes fantastiques, on remarquera la présence ici et là de petites maisons. C'est en regardant ces maisons que l'on s'aperçoit à quel point le palais est immense.
Angelius – The God Spawner ! est donc une map formidable. Vous l'aurez compris, le bâtiment est impressionnant par sa taille, mais pas seulement. Les couleurs, le vert, le violet et le gris, s'harmonisent parfaitement avec les formes et les détails, faisant du palais un superbe monument architectural. C'est ce qui fait pour moi la beauté de cette construction.
Screenshots :
Vidéo :
[youtube]https://www.youtube.com/watch?v=jOlhWP6EDBM#t=178[/youtube]
Téléchargement:
[1.7.x] Angelius – The God Spawner ! [1.7.4] DeepAcademy 32×32
Installation
Téléchargez la map. Puis trouvez votre dossier
.minecraft
:
Windows : Allez dans le menu Démarrer, puis rendez-vous dans Exécuter. Sinon, faites Touche Windows + R. Ensuite, tapez %appdata% dans la barre de recherche, puis allez dans le dossier .minecraft.
Linux : Appuyez en même temps sur ALT + F2. Vous devriez normalement avoir votre .minecraft.
Si vous ne le voyez pas, activez les dossiers cachés avec la combinaison CTRL + H.
Mac : Votre dossier minecraft se trouve dans Utilisateur > Bibliothèque > Application Support.
Si vous ne trouvez pas Application Support, faites Finder > Barre des menus : Aller + Maintenir ALT > Bibliothèque.
Ouvrez l'archive de la map, et transférez le dossier de la map dans le dossier saves, qui se trouve dans votre .minecraft.
Lancez le jeu, et amusez-vous bien !