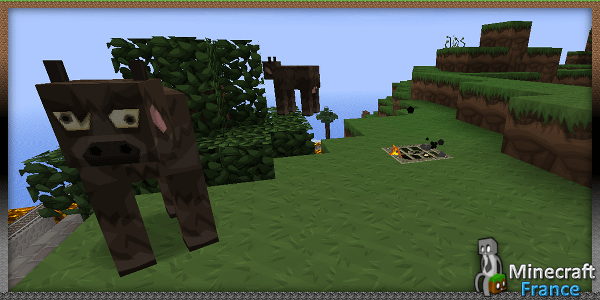 Auteur : Vechs
Version de minecraft : 1.8.1 ou supérieure
Version de la map : 1.0
 Description :
Peut-être connaissez-vous Vechs par ses maps de la série Super Hostile. Ou peut-être que vous en avez entendu parler par les quelques tordus qui s'acharnent à tenter de compléter ses maps (je ne vise personne, hmm ?). Toujours est-il que d'habitude, il nous trolle, nous torture, nous fait mourir, plusieurs fois par heure de jeu, de manière gratuite et rageante. Tout ça pour quoi ? 16 bouts de laine à trouver dans des coffres et 3 blocs de métal à crafter ! Un monument de la victoire à remplir avec tout ça. D'où le titre de CTM pour Complete The Monument (or die trying).
Pour mon premier article sur ce site, je ne pouvais faire autrement que de parler d'une des créations de ce level-designer fou et trolleur, même si en l'occurence c'est une map un peu spéciale, car ce n'est pas une map Super Hostile, mais bien Super Docile. Pourquoi Docile ? Hé bien parce que…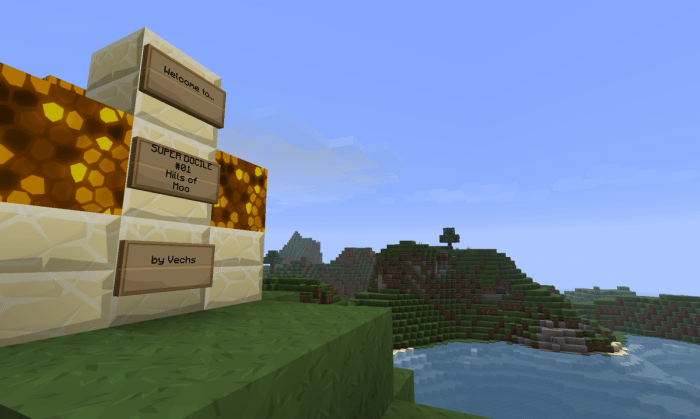 (SuperDocile… des arbres, de la pelouse, des moutons et des vach… WAIT WHAT ?!)
Bref, Vechs a craqué. Ou il a fumé. Est-ce le fait d'avoir été maintenu captif par les joueurs les plus acharnés parmi ceux qui jouent à ses maps ? Cette map est simple. Vraiment. Dès le début on voit de la pelouse, des arbres, des ressources. Les panneaux ne nous trollent pas… Et puis un détail rappelle vite qu'on est sur une map de Vechs. Et puis un autre. Quelques éléments vraiment bien placés, et puis les caves pas vraiment naturelles. D'ailleurs, ce coup-ci, les habituelles règles sont des suggestions.
Vous voulez tenter la collecte de laine à la dure ? Vous pouvez, mais vous n'êtes pas obligé. Vous pouvez très bien farmer du poisson et du bois pendant deux mois minecraftiens avant de timidement débuter votre exploration. Vous pouvez même teindre la laine, si vous voulez. Son credo ce coup-ci n'est pas "Survive in any way you can think of" (Restez en vie par tous les moyens) mais plutôt "Have fun in any way you can think of" (Amusez-vous par tous les moyens). Je vous rassure, on parle de Vechs, donc y a quand même quelques saloperies cachées…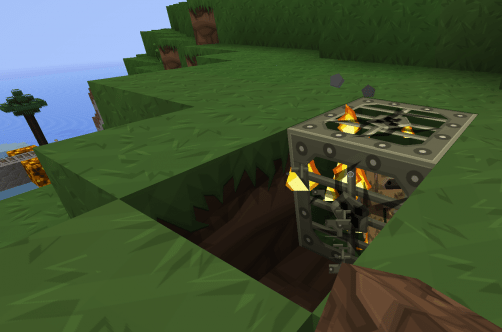 (Les collines ont des meuuuuhh. Voyez pourquoi Hills of Moo, là ?)
Je ne spoilerai que très peu, tout d'abord parce que je ne l'ai pas encore jouée longtemps, et ensuite parce que de toute façon, vechs fournit la carte, cette fois.
Spoiler : La map
Difficulté
 : Très très facile. 
Progression
 : ouverte.
Recommandations
 : Avant, j'aurais conseillé Sunburn Island pour commencer. Hé bien maintenant il y aura les Super Docile.
Téléchargement :