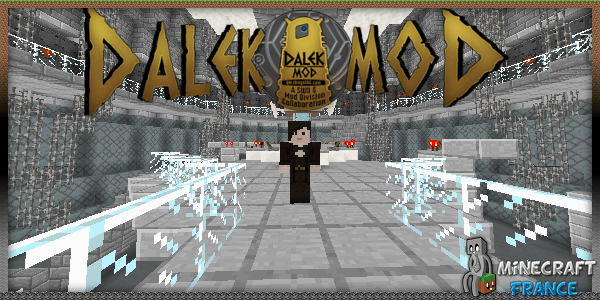 Auteurs : SWD et Mod Division
Version de Minecraft : 1.7.10
Chers amis, si vous naviguez un tant soit peu sur les Internets, ou que les séries de science-fiction vous intéressent, il est tout bonnement impossible que vous n'ayez jamais entendu parler de Doctor Who. Pour ceux d'entre vous qui n'auraient pas en tête ce monstre de culture populaire, il s'agit d'une, que dis-je, de LA série de science-fiction par excellence. On y suit les aventures du Docteur, extra-terrestre d'apparence humaine, voyageant dans l'espace et le temps grâce à son mythique vaisseau spatial, le TARDIS (Temps A Relativité Dimensionnelle Inter Spatiale)
Un très grand nombre de fans de la série ont donc décidé il y a quelques années de se rassembler sur un serveur dédié à l'univers de Doctor Who. Parmi eux, deux équipes de moddeurs : SWD et Mod Division, ont décidé de collaborer et nous offrent aujourd'hui The Dalek Mod !
Ce mod intègre à Minecraft beaucoup de contenu : un grand nombre de créatures issues de la série, des véhicules, des planètes à visiter grâce à votre TARDIS, des objets vous permettant d'activer des courants de redstone, et même d'adopter l'apparence des différents Docteurs !
Je vous avertis cependant, un nombre assez important de ces ajouts sont impossibles à obtenir ou fabriquer en survie à l'heure actuelle, mais les prochaines mises à jour sauront compléter cela.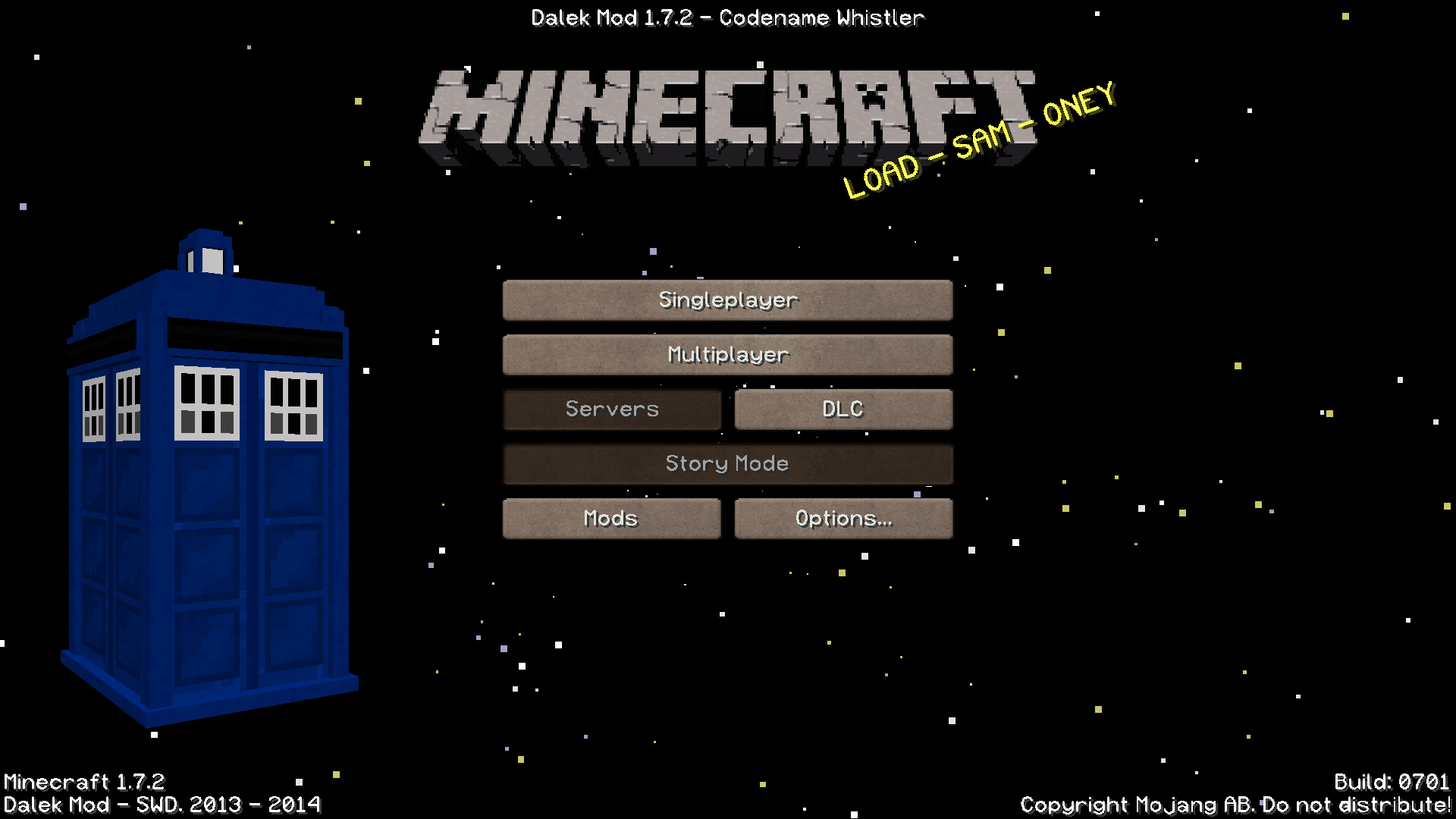 Le menu de votre jeu subit un joli lifting !
Laissez-moi désormais l'honneur de vous donner les détails de ce formidable joyau. Par ailleurs, je m'excuse d'avance auprès des plus grands fans, pour les traductions, j'ai fait de mon mieux, je vous le jure.
Les nouvelles dimensions :
Voyages temporels :

Vous aurez la possibilité de traverser le temps et de voyager dans le temps où Minecraft était encore "Cave Game", jusqu'à la version xBox d'aujourd'hui !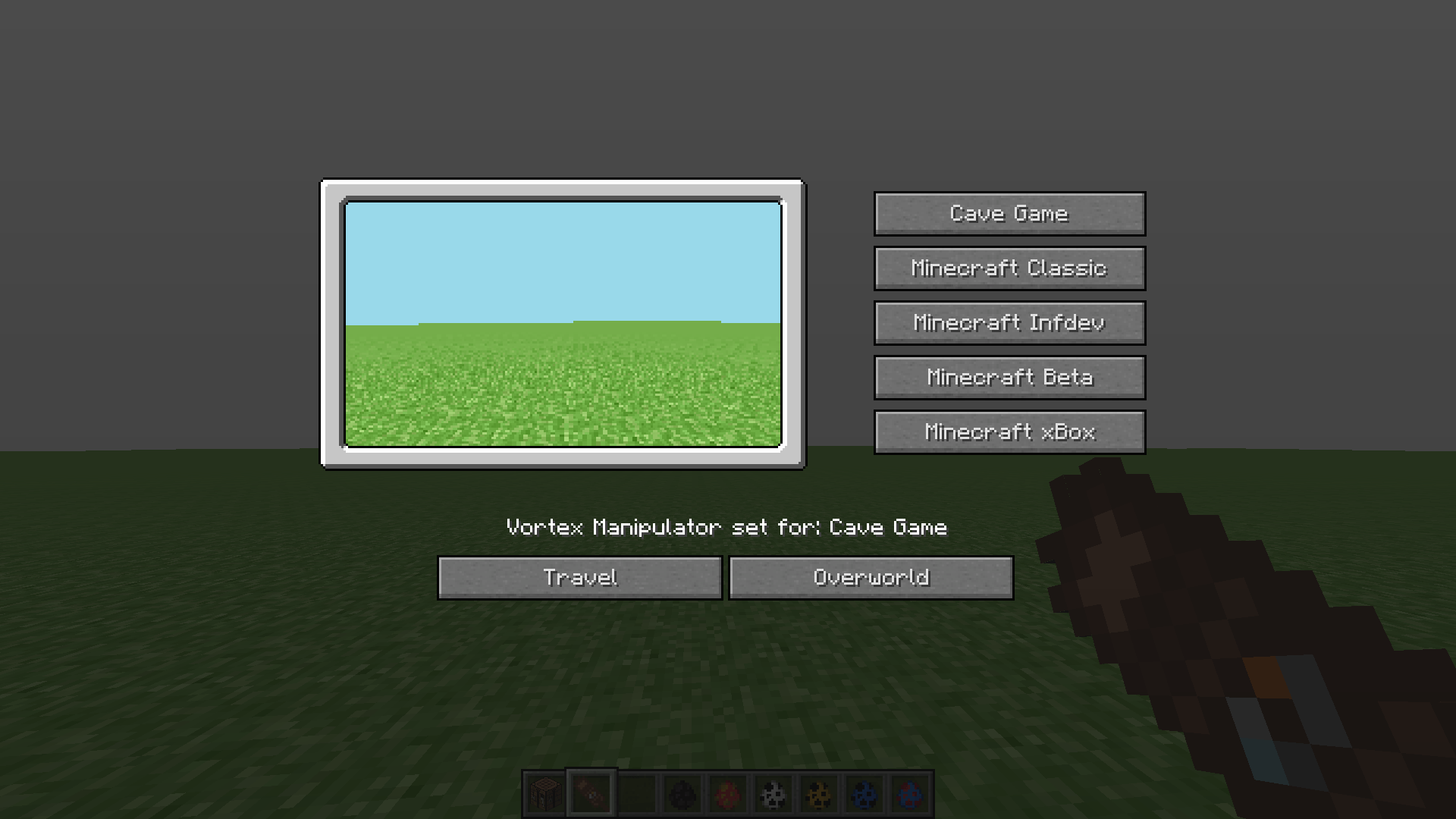 Le monde en arrière plan, quand Minecraft se nommait "Cave Game"
Voyages dimensionnels :

Vous aurez bien sûr à votre disposition un TARDIS, qui pourra vous emmener sur différentes planètes !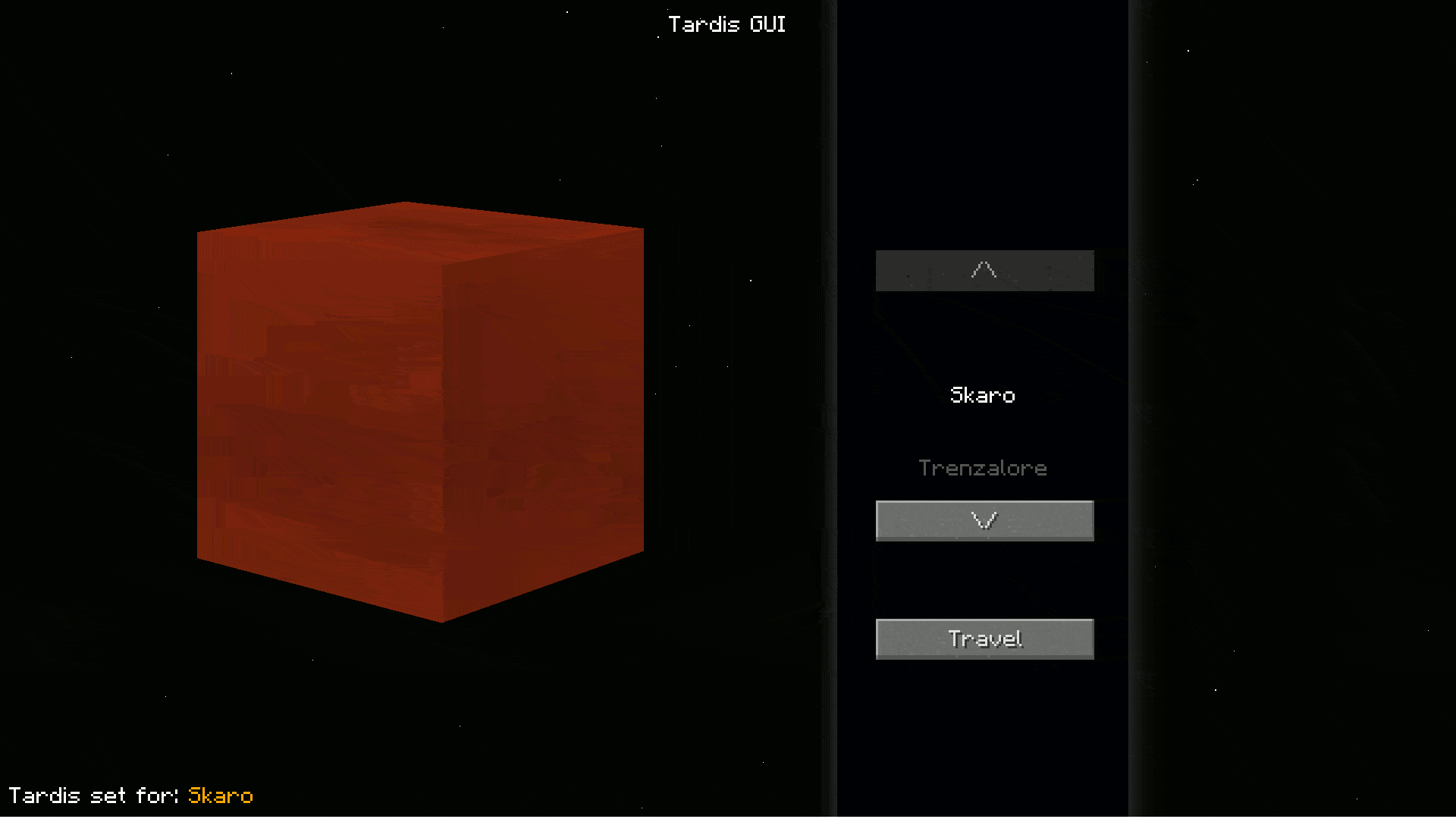 Les différentes planètes (carrées !) sur lesquelles poser votre TARDIS
Skaro : Sur cette planète hostile très montagneuse où vivent des dizaines de sortes de Daleks, vous trouverez du minerai de Dalekanium, ainsi que des vaisseaux Daleks crashés.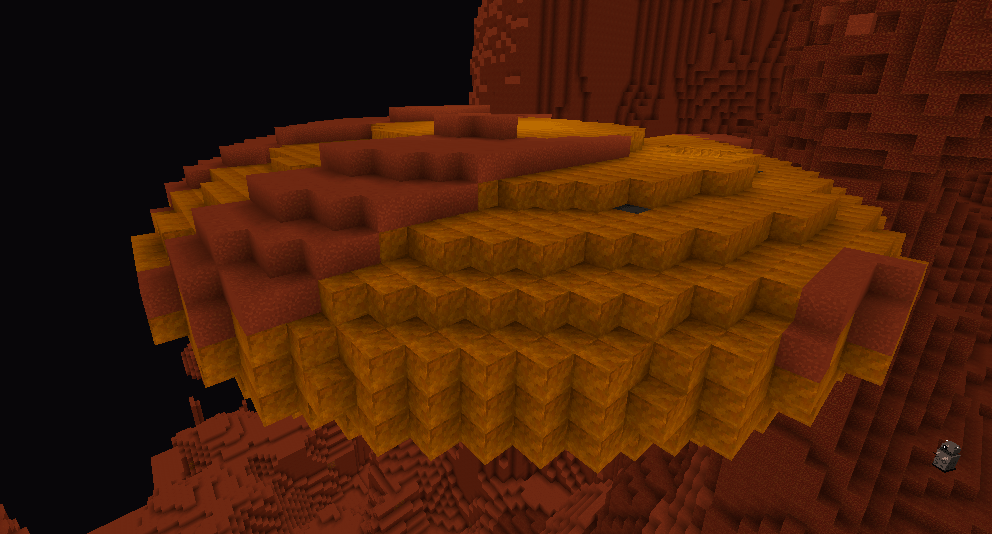 Vous trouverez dans ces vaisseaux des lingots de Dalekanium et des pièces d'armure de Dalek.
Trenzalore : Cette planète non moins hostile que la précédente est le repaire de Silences et de Whispermen. Vous pourrez également trouver des cimetières, quelques Daleks de pierre, voire quelques amis Anges Pleureurs.
Gallifrey : La planète d'origine du Docteur. Vous rencontrerez dans les Citadelles qui s'y trouvent des Seigneurs du Temps et des Cleaners.
La Lune : Vous pourrez creuser la Lune à grands coups de pioches pour vous procurer de la pierre lunaire.
Mars : Sur cette planète pacifique se trouve une très grande quantité de sable rouge.
Europe : Ce satellite de Jupiter sera votre réserve personnelle de glace, de glace compactée, d'eau et de silicate.
Omicron Persei 8 : Récuperez-y de la pierre d'Omicron.
La Terre ( Overworld ) : le monde normal. Je dois vraiment vous l'expliquer, ça ?
Le Nether : Bon, à part si vous n'avez plus joué à Minecraft depuis Octobre 2010, vous devriez connaître.
Particulier :
Forest in a box : Ce bloc à l'apparence d'un cadeau bleu, est en fait un monde minuscule dans lequel vous pouvez entrer. Pour cela, il suffit d'un clic droit sur le cadeau.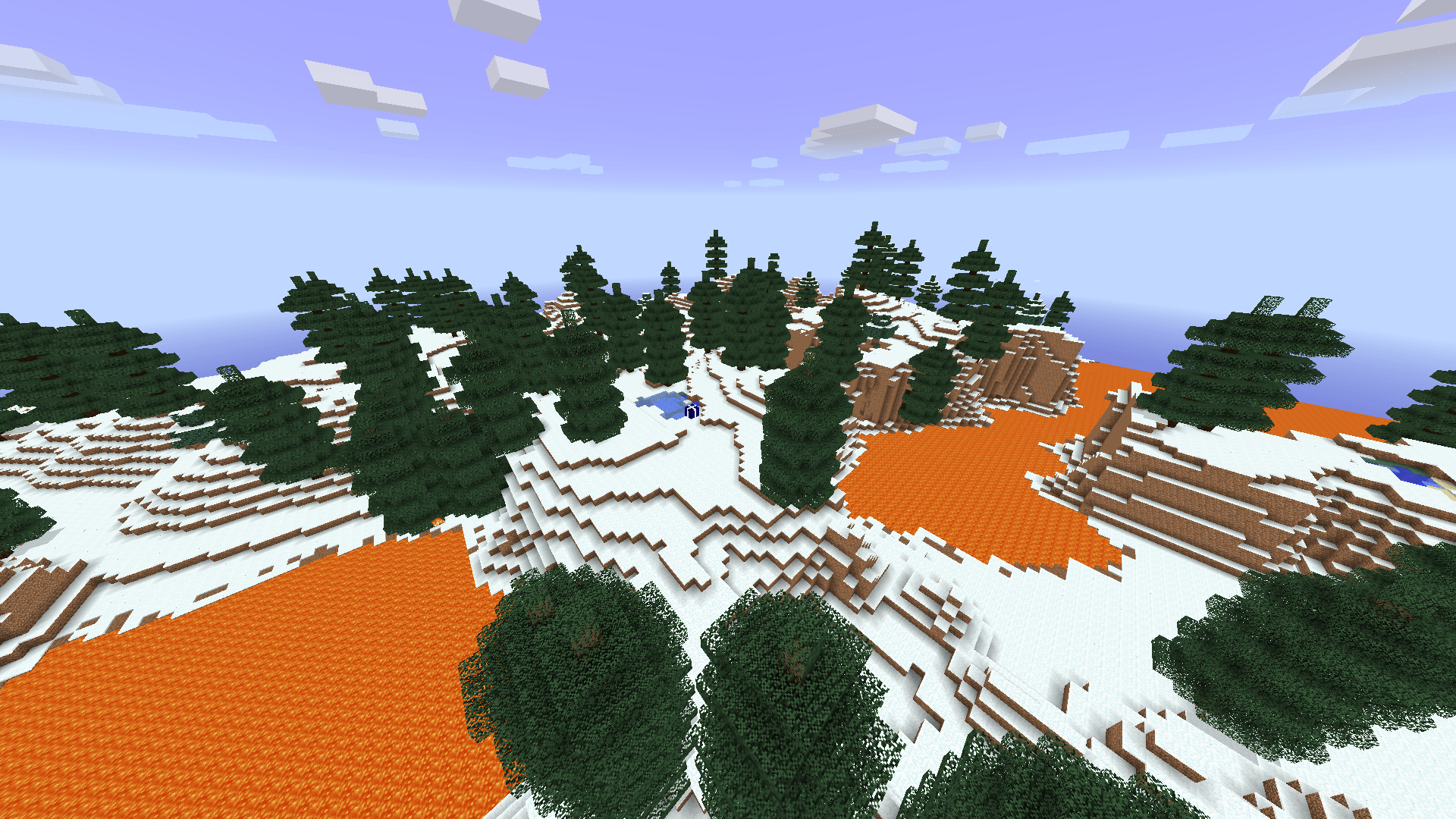 La "forest in a box"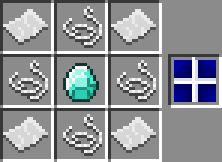 Les Véhicules :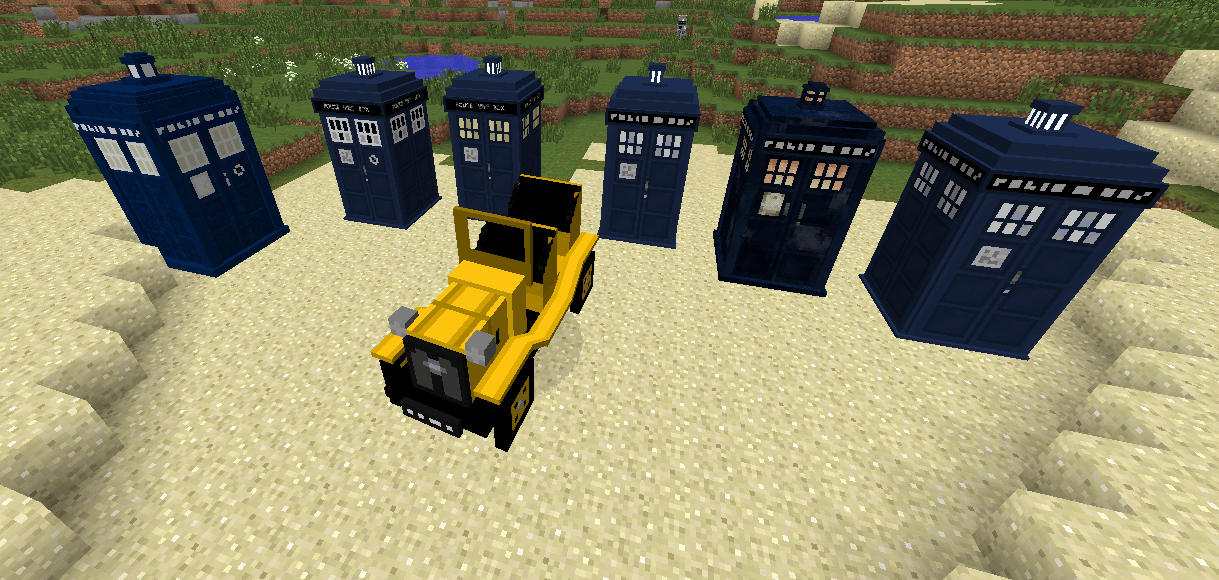 Il existe comme vous pouvez le constater plusieurs modèles de TARDIS, et vous disposez également de Bessie, la voiture du Docteur !
TARDIS : Vous pourrez y entrer à condition d'en avoir la clé. Si vous l'avez, faites un clic droit avec sur la porte. A l'heure actuelle, seul le 11ème TARDIS est obtenable en survie.
Faites un clic droit sur les écrans de contrôle pour choisir la planète sur laquelle donnera la porte du TARDIS. Sortez ensuite par celle-ci et vous arriverez sur la dite planète.
La recette :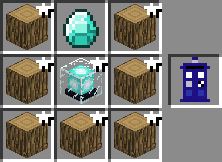 NB : Vous pouvez utiliser n'importe quel bois.
A noter que le TARDIS est en soi considéré comme une dimension unique, ce qui signifie que peu importe d'où vous y entrez, les blocs que vous y poserez y resteront.
Bessie : Faites un clic droit sur ce joli véhicule pour la contrôler de la même manière qu'un cheval. Cette entité a 500 points de vie et vous permettra de vous déplacer un peu plus rapidement qu'en sprintant.
Elle ne peut pas encore être obtenue en survie.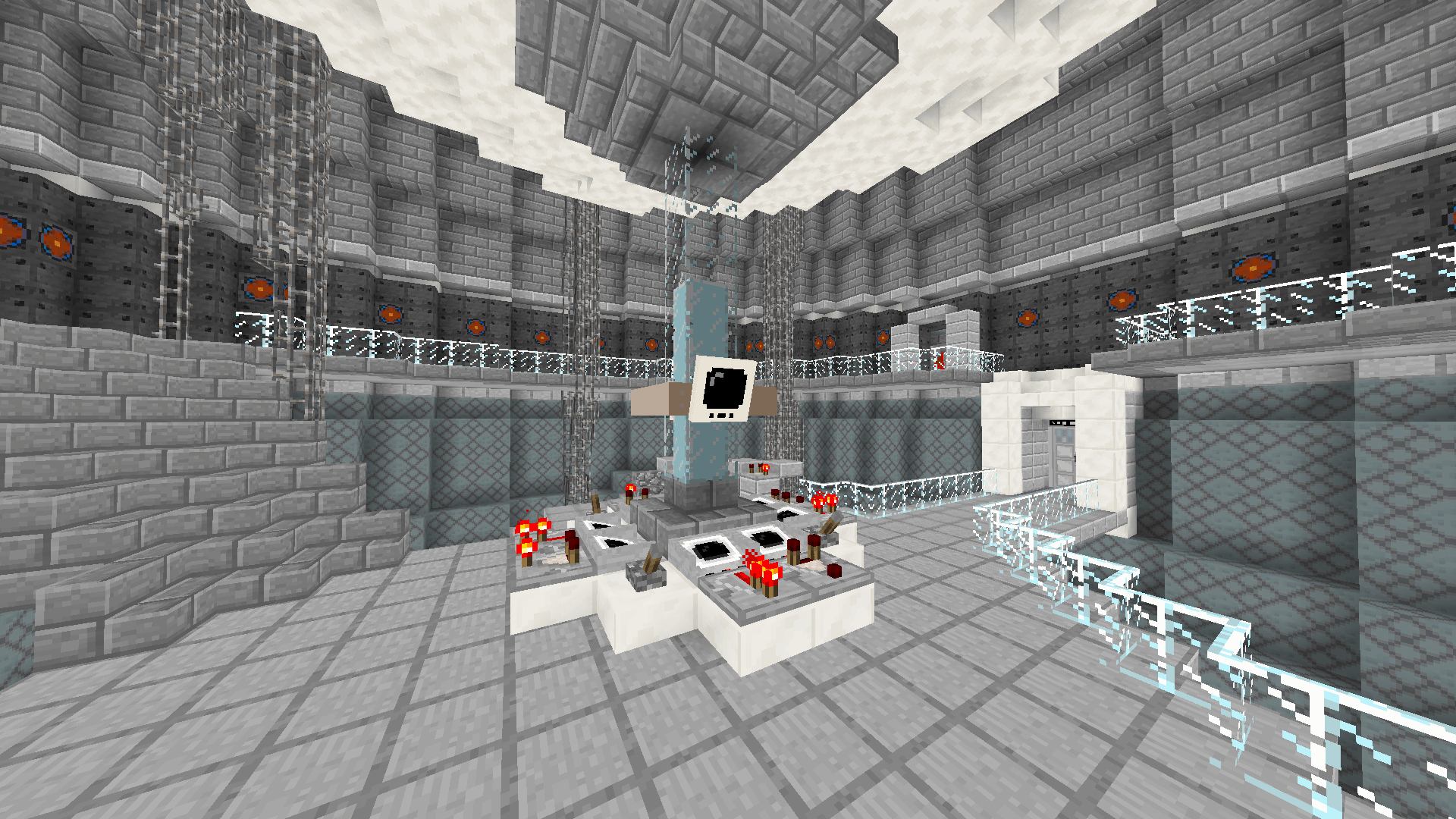 L'intérieur du TARDIS
Les mobs :
Les Daleks
Je sais que c'est la première chose que vous voulez voir, les Daleks ! Sans plus attendre, les voici !
Drone Dalek
Dalek noir et doré issu des films Dr. Who
Dalek de la Guerre du Temps
Dalek bleu et gris issu des films Dr. Who
Dalek Eternel
Dalek, version série des années 60
Dalek Impérial
Dalek en pierre
Dalek Stratège
Dalek suprême blanc
Dalek suprême rouge
Dalek surarmé
Scientifique Dalek
Dalek classique de l'Asile des Daleks
Dalek de l'Asile surarmé
Dalek de l'Asile
Dalek Suicidaire
Dalek de l'End
Dalek de l'End surarmé
Dalek envahisseur
Dalek du Nether
Dalek doré issu du film Dr. Who
Dalek rouge issu du film Dr Who
Pilote Dalek
Dalek, version série des années 80
A savoir à propos de nos amis les Daleks :
Chaque Dalek a 40 points de vie, sauf les surarmés qui en ont 60
Chaque attaque d'un Dalek vous infligera une perte de 10 points de vie. (valeur sans armure)
Tout les Daleks attaqueront à vue les joueurs, villageois et Cybermen.
Les Daleks renégats et les Daleks impériaux s'entretueront.
Les Daleks surarmés sont plus destructeurs que ses congénères, leur rayon laser déclenchera une explosion dévastatrice et enflammera les blocs et entités alentours.
Les Daleks suicidaires ont une chance sur dix d'exploser au lieu de tirer un rayon.
Les Daleks de l'End se téléportent comme les Endermen, et ne spawnent que dans l'End.
Les Daleks tirés de films Dr. Who sont dotés de griffes pouvant briser tous types de portes.
Les autres créatures
Les créatures passives :
Adipose
Lieu de spawn : Terre
Drop : Aucun pour le moment
Soldat de l'UNIT
Lieu de spawn : Terre
Drop : Aucun pour le moment
Joueur de Minecraft Classic
Ceux-ci spawnent dans la dimension temporelle Minecraft Classic. Ils construisent pour le moment des structures étranges en bougeant de manière folle, et peuvent également placer et faire exploser de la TNT. Il est prévu d'améliorer leur comportement dans les futures mises à jour, et de le rendre plus utiles.
Lieu de spawn : Minecraft Classic
Drop : Aucun pour le moment
Dalek Aquatique
Seul Dalek passif, il spawne dans l'eau mais pas sur Skaro. Il deviendra cependant dans les prochaines mises à jour agressif et attaquera les joueurs et poulpes à vue.
Lieu de spawn : Terre, dans l'eau
Drop : Minerai de Dalekanium
Les créatures Neutres :
Guerrier des glaces
Ils spawnent dans les biomes froids, et attaqueront le joueur s'il est provoqué.
Lieu de spawn : Terre, biomes froids
Drop : blocs de glace
Les créatures agressives :
Auton
Lieu de spawn : Terre, surface et cavernes
Drop : Aucun pour le moment
Le Bonhomme de Neige
Lieu de spawn : biomes froids
Drop : boules de neige
Cleaner
Les Cleaners vous attaqueront dès que vous en approcherez.
Lieu de spawn : Gallifrey, prochainement également dans le T.A.R.D.I.S
Drop : une slimeball
Ils attaqueront le joueur et les Daleks. S'ils tuent un villageois, celui-ci deviendra l'un des leurs.
Lieu de spawn : Terre

Drop : 1 à 4 lingots d'acier
Droïde Horloge
Ils sont très lents, et vous attaqueront à vue.
Lieu de spawn : Terre
Drop : Aucun pour le moment
"Empty Child", enfant de l'épisode "Drôle de Mort"
Ils se baladent en répétant : "Mummy? Are you my Mummy? Mummy?!".
Lieu de spawn : Terre
Drop : un masque à gaz, chair pourrie
"Empty Villager", un villageois tué par un "Empty Child" ou un "Empty NPC"
Lieu de spawn : Terre, si tué par un "Empty Child" ou un "Empty NPC"
Drop : un masque à gaz, chair pourrie
"Empty NPC" : Patient du docteur Constantine, de l'épisode "Drôle de Mort"
Lieu de spawn : Terre
Drop : un masque à gaz, chair pourrie
Ange Pleureur
Comme dans la série, si vous les regardez, ils ne bougeront pas. Dès que vous détournerez votre regard, ils vous attaqueront sauvagement. En difficulté "hard", ils ne peuvent être tués qu'à l'aide d'un pioche. Ils sont également capables d'éteindre les torches et de casser les lampes de redstone.
Lieu de spawn : Terre, Trenzalore.
Drop : Aucun pour le moment
Gell Guard
Ils attaquent le joueur à vue.
Lieu de spawn : Terre
Drop : Slimeball
Silence
Ces ennemis extrêmement impressionnants ont la capacité de faire tomber sur vous une série d'éclairs d'une puissance considérable.
Lieu de spawn : Trenzalore
Drop : Aucun pour le moment.
Sontarien
Ils vous attaqueront à vue, et sont relativement rares. Dans les futures mises à jour, ils utiliseront des armes laser.
Lieu de spawn : Terre
Drop : chair pourrie
"Whisperman", épisode "Le Nom du Docteur"
Lieu de spawn : Trenzalore
Drop : leur chapeau !
Zygon
Ils attaquent le joueur et pourront prendre plus tard l'apparence d'autre créatures.
Lieu de spawn : Terre
Drop : chair pourrie
Les Boss
Cyberleader
Ce boss fera spawner beaucoup de Cybermen avec lui, rendant le combat assez chaotique. Il est assez rapide, mais ne fait heureusement pas énormément de dégâts.
Lieu de spawn : Terre, il apparaîtra rarement.
Drop : Crédits
Dalek Storm
Le Dalek Storm est extrêmement destructeur. Il est doté d'un rayon laser qui cause une énorme explosion à l'impact, et est très résistant. Il est cependant assez lent.
Lieu de spawn : Terre, il apparaîtra rarement.
Drop : Crédits, lingots de Dalekanium, cristaux de Zeiton-7
TV21 Dalek Empereur
Il vous attaquera à coup de rayons laser, est aussi lent qu'un Dalek classique. Il invoquera d'ailleurs ceux-ci lorsque vous le combattrez.
Lieu de spawn : Terre, il apparaîtra rarement.
Drop : Crédits
Les Compagnons :
Vous aurez, heureusement, un peu de compagnie sympathique en la personne de Clara Oswald, l'acolyte du onzième Docteur. Faites un clic droit sur elle fera apparaître une interface dans laquelle vous pourrez la renommer si le cœur vous en dit, et choisir son équipement.
Pour qu'elle vous rejoigne, il suffira simplement de la rencontrer dans un des villages du jeu.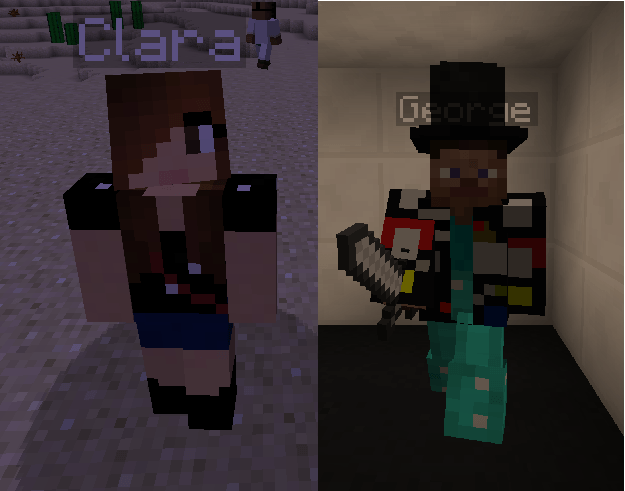 Oui, Clara est devenue George. Un problème ?
Vous pourrez également apprivoiser K-9 le chien robot ! Si vous le trouvez, faites un clic droit sur le gentil canidé robotique, et il vous aidera à affronter vos adversaires.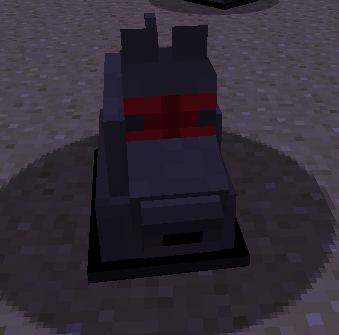 Si toutefois toute cette compagnie ne vous suffit toujours pas, vous aurez également la possibilité de fabriquer votre propre … Dalek de compagnie !
Pour cela il faudra récupérer les différentes pièces qui le compose en tuant des Daleks ou dans des vaisseaux Daleks en perdition, puis le fabriquer via ce craft :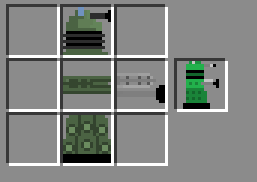 Posez ensuite votre "Ironside" et il combattra à vos côtés !
Les objets :
Armes, armures et outils en Dalekanium et en acier :
Le manipulateur de vortex temporel :

Faites un clic droit avec cet outil dans les mains pour ouvrir une interface qui vous permettra de voyager dans le temps. Vous pourrez voyager dans des versions antérieures de Minecraft.
La recette :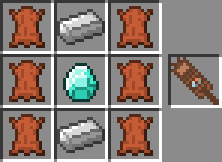 Les habits :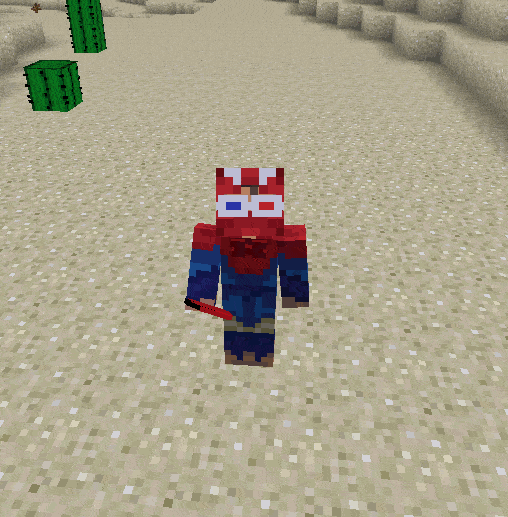 Vous avez la possibilité de récupérer ou fabriquer quelques tenues bien sympathiques.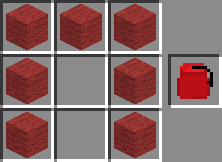 Craft du Fez
Les tournevis soniques :
Ce formidable outil multifonction vous permettra :
d'ouvrir une porte en fer
allumer de la TNT
allumer les lampes de redstone
indiquer le nom, la localisation et les points de vie d'un mob d'un clic droit ( merci Gil30 )
Les différents tournevis obtenables en survie :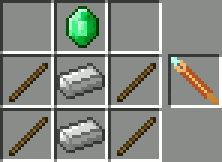 Le blaster sonique :

Cet outil cassera n'importe quel bloc d'un seul clic droit !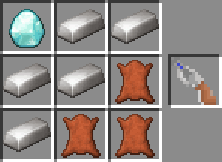 Le "Rivers Diary" (Créatif uniquement) :
Ce formidable livre vous permettra de vous régénérer et donc de prendre l'apparence des douze docteurs. Plutôt classe, hein ?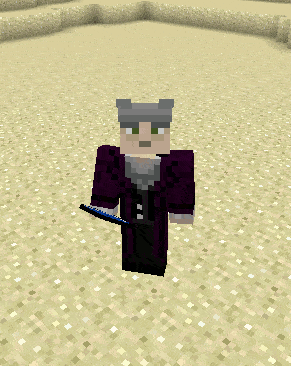 William Hartnell, Patrick Troughton, Jon Pertwee, Tom Baker, Peter Davison, Colin Baker, Sylvester McCoy, Paul McGann, Christopher Eccleston, David Tennant, Matt Smith, Peter Capaldi. Tous les Docteurs sont présents !
La collection d'Ace :
Ace, alias Dorothy Gale McShane, est la dernière acolyte du septième Docteur. Vous pourrez dans ce mod vous procurer sa batte de baseball en guise d'épée, sa veste, et son explosif le Nitro-9.
Pour faire exploser le Nitro-9, posez-le puis faites un clic droit dessus.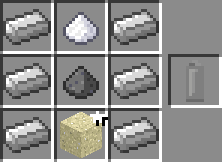 Nitro-9
Les Blocs :
 Le minerai de Dalekanium :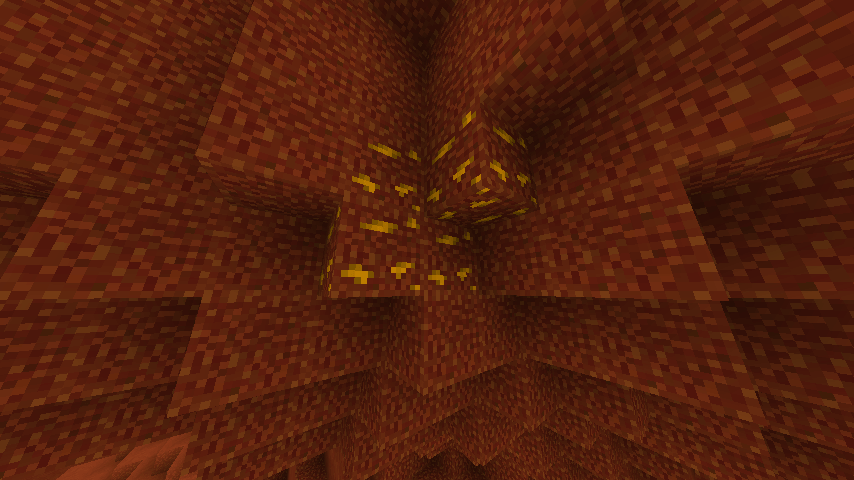 Vous obtiendrez en le minant, des pépites de Dalekanium, ou si vous avez un peu de chance, un lingot.
Le minerai de Zeiton-7 :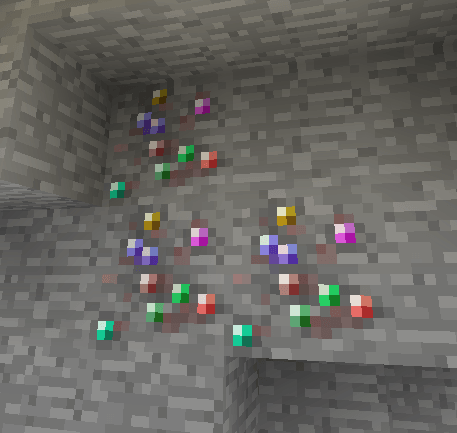 Vous en récupérerez des cristaux qui serviront dans les futures mises à jour à alimenter le TARDIS.
Blocs "dimensionnels" :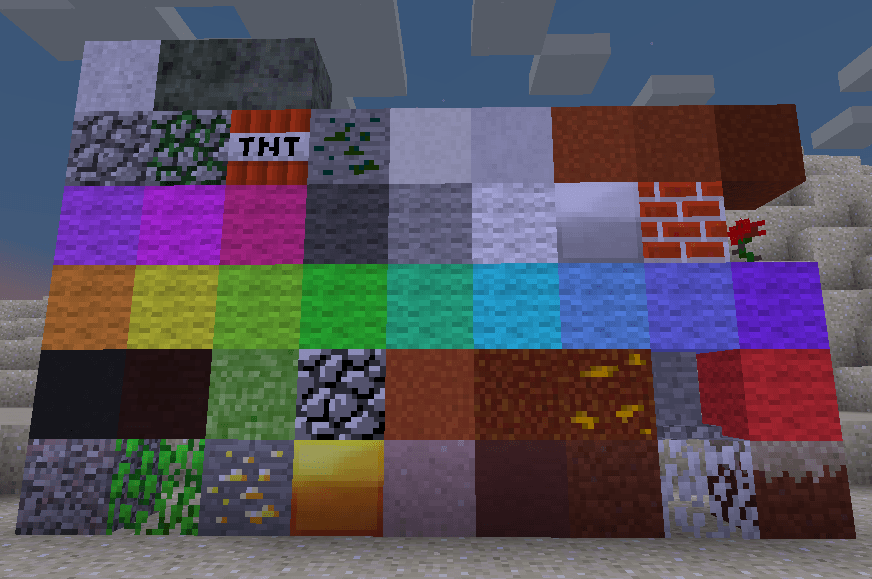 Ce sont les blocs issus d'autres planètes et autres temps, à savoir l'ancien bloc de gravier, les anciens blocs de laine, l'ancienne cobblestone, et bien sûr les blocs qui composent la Lune, Trenzalore, Skaro, ou encore Gallifrey.
Blocs du TARDIS :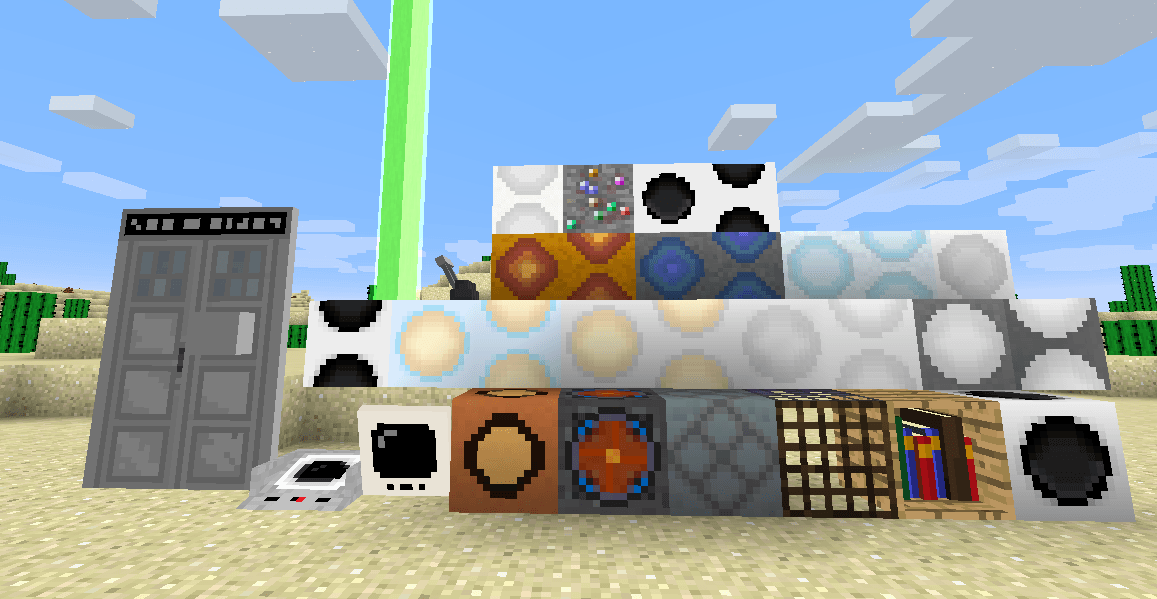 Ces blocs servent à customiser votre TARDIS, vous pouvez y voir la porte, les écrans de contrôle, et d'autres blocs purement décoratifs.
Les Blocs décoratifs :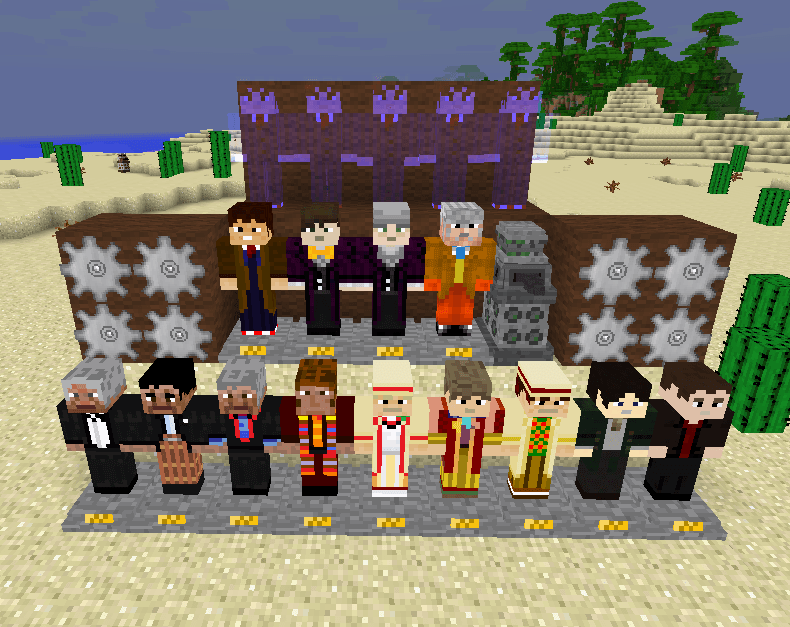 Parmi eux, les hologrammes, les statues des douzes Docteurs, ainsi que du Docteur du film, une statue de Dalek surarmé, ou encore les rouages.
Ces blocs ne se craftent pas encore, mais cela viendra.
NB : La statue de Dalek surarmé est obtenable en survie.
Le Tardis Command Block :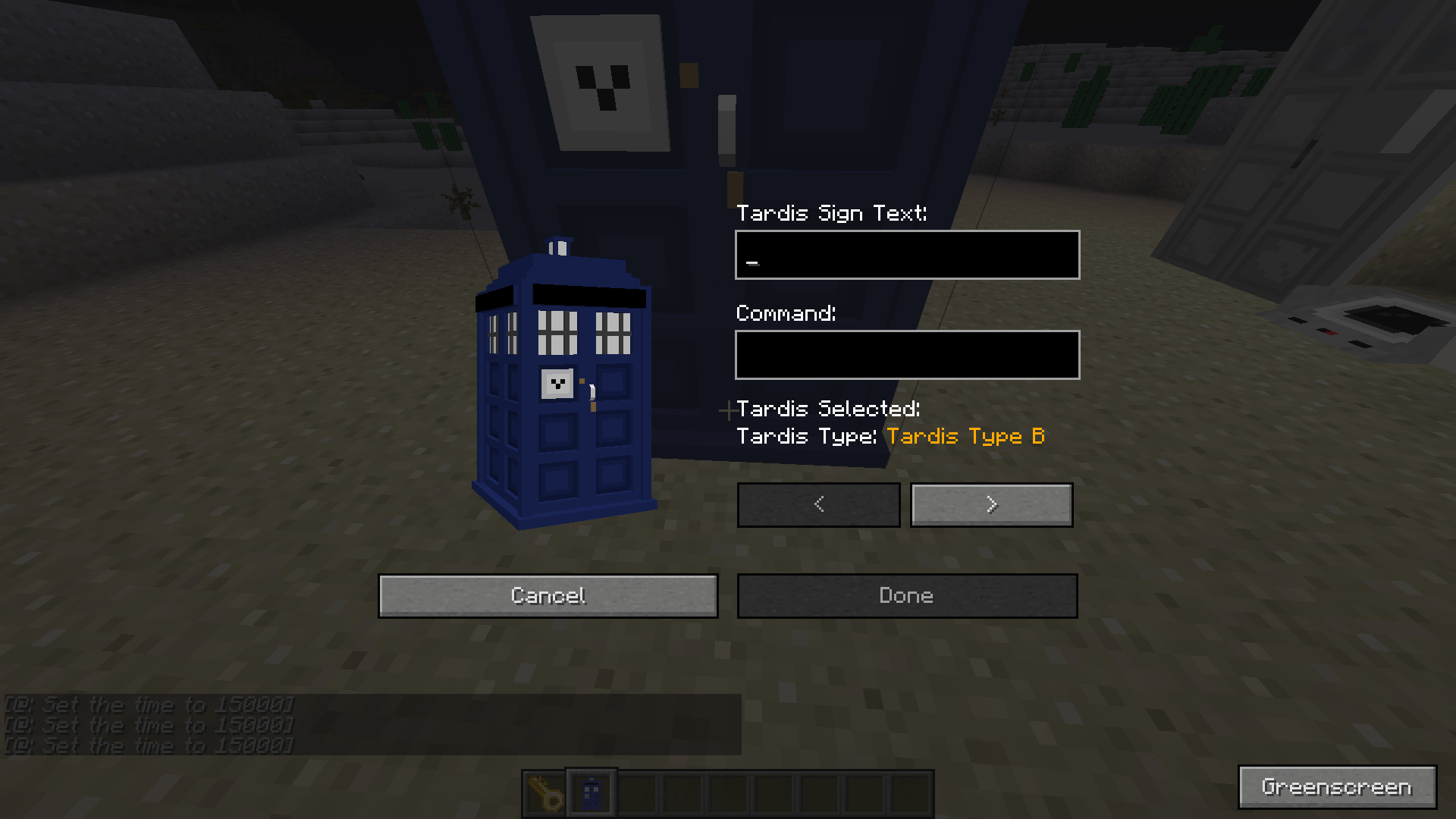 Ce TARDIS est un peu particulier. Obtenable uniquement en créatif, vous pourrez sur l'interface ci-dessus définir le texte qui y sera affiché, le modèle de TARDIS et enfin associer une commande à ce dernier, comme pour un command block.
Incompatibilité : Utilisé avec Optifine en 1.7.10, certains blocs seront invisibles.
Mise à jour du 30/10/2014 :
Je ne l'ai pas testé, faute de temps, je vous transmets le changelog officiel, pour le moment. Je mettrai à jour l'article lorsqu'il y aura plus d'ajouts majeurs.
Ajouts de Waypoints au Vortex Manipulator
Ajout  d'une possibilité de bloquer les joueurs vous envoyant des requêtes de Waypoints
Ajout du fauteuil du TARDIS, version 2005
Ajout du fauteuil du TARDIS
Ajout du fauteuil du TARDIS, version classique
Ajout de la main du Docteur n°10
Ajout du porte-chapeau du TARDIS
Ajout du moniteur du TARDIS
Ajout du TARDIS, version 2014, extérieur complet, intérieur en développement
Ajout du support de modèles de blocs personnalisés
Ajout d'une porte de TARDIS 1×1
Ajout des portes intérieures classiques du TARDIS
Ajout du "2Dis". Un clic droit avec fera rétrécir un monstre. Uniquement en solo pour le moment.
Ajout du "Supreme Controller Dalek"
Ajout des "

Bacteria Spiders"

Ajout d'un système permettant d'importer des modèles de Dalek de resource packs
Nouvelle IA et nouveau modèle pour les Anges Pleureurs
Le contenu à venir :
Le mode Histoire : Comme son nom l'indique, il sera question de sortes de maps Aventure ayant pour thème une histoire issue de l'univers de Doctor Who, que ce soit un véritable épisode ou une histoire créée de toute pièce. Elles seront disponibles via un Launcher propre au mod.
Quelques nouvelles planètes : Mondas, terres de Cybermen ou encore Adipose 3.
La régénération coûtera de l'XP, sera disponible en survie, et rendra toute la vie du joueur.
Ajouts de recettes pour les quelques objets qui n'en ont pas.
C'est sur ces belles lignes pleines de rêves que je vais vous laisser fabriquer votre TARDIS. Pensez-bien à en refermer la porte ! Quant à moi je vous retrouve dans quelques jours pour vous présenter une autre merveille cubique !
A la prochaine !

Téléchargement :
[1.7.10] Forge [1.7.10] The Dalek Mod
Installation
Commencez par télécharger Forge Installer. Une fois que cela est fait, ouvrez-le et cliquez sur Install Client.
Lancez Minecraft et sélectionnez le profil Forge. Entrez vos identifiants à nouveau et cliquez sur Play pour finaliser l'installation de Forge.
Ensuite, trouvez votre dossier .minecraft :
Windows : Allez dans le menu Démarrer, puis rendez-vous dans Exécuter. Sinon, faites Touche Windows + R. Ensuite, tapez %appdata% dans la barre de recherche, puis allez dans le dossier .minecraft.
Linux : Appuyez en même temps sur ALT + F2. Vous devriez normalement avoir votre .minecraft.
Si vous ne le voyez pas, activez les dossiers cachés avec la combinaison CTRL + H.
Mac : Votre dossier minecraft se trouve dans Utilisateur > Bibliothèque > Application Support.
Si vous ne trouvez pas Application Support, faites Finder > Barre des menus : Aller + Maintenir ALT > Bibliothèque.
Glissez ensuite le .jar ou .zip de votre mod préalablement téléchargé dans le dossier mods, qui se trouve dans votre .minecraft.
Lancez le jeu, et amusez-vous bien !
PS : Pour ce mod en particulier, qu'il soit en .zip ou .jar importe peu. Vous pouvez le renommer si vous le souhaitez.