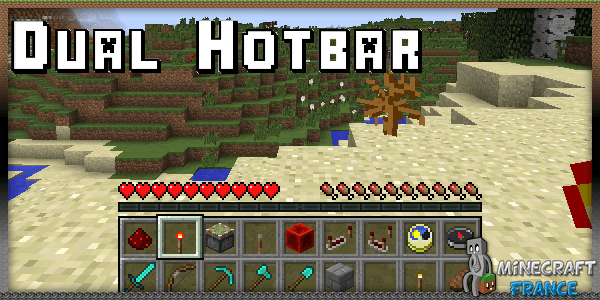 Auteur : RebelKeith
Version de Minecraft : 1.7.10
Bonjour, joueurs de la voie lactée !
Dans cet article, je vous présenterai un mod "on ne peut plus petit", puisqu'il n'ajoute qu'une seule et très utile fonctionnalité qu'est la double barre d'action ! Et oui, vous aurez enfin plus de place pour ne pas avoir à ouvrir votre inventaire, ce qui pourrait vous embêter dans certains cas, comme des combats contre des monstres, ou même pour vos constructions diverses et variées ! Ce petit mod se nomme Dual Hotbars !
Vous pourrez accéder à cette deuxième barre de différentes façons. Vous pouvez survoler toutes les cases grâce à votre molette de souris, taper rapidement 2 fois sur les nombres en haut de votre clavier (Exemple : vous souhaitez accéder à la case 5 de la deuxième barre, alors vous appuyez deux fois sur la touche 5 de votre clavier) ou encore maintenir une touche modifiable dans les options de contrôles, puis appuyer sur la touche du numéro de votre choix. Par défaut cette touche est [Ctrl].

Paramètres :
Dans les options du mod (qui se trouvent dans le menu Mods de votre Minecraft), vous trouverez les paramètres "Double Tap Time", "Enable", "Enable Double Tap", "Enable Key Combo", "Long Hotbar" et enfin "Numbers of Hotbars".

Les différents paramètres
Pas de panique, pour les plus anglophobes d'entre vous, je vais vous expliquer ce que sont toutes ces maudites options :
Le "Double Tap Time", ou "Temps de double frappe", dont la valeur par défaut est de 900, sert à, en nombre de ticks, délimiter le temps pour permettre à l'utilisateur de taper une deuxième fois pour utiliser cette deuxième barre.
"Enable" sert à activer ou non le mod.
"Enable Double Tap" sert à autoriser ou non la double frappe.
"Enable Key Combo" sert à… désolé je ne sais pas. J'ai cherché partout mais pas trouvé… Si vous trouvez ce que c'est, faites m'en part dans les commentaires pour que je puisse corriger ça au plus vite !
"Long Hotbar" permet de n'avoir qu'une seule hotbar, mais avec 18 slots.
"Number of Hotbars" permet de choisir combien d'hotbars voulez-vous avoir.

Screenshots :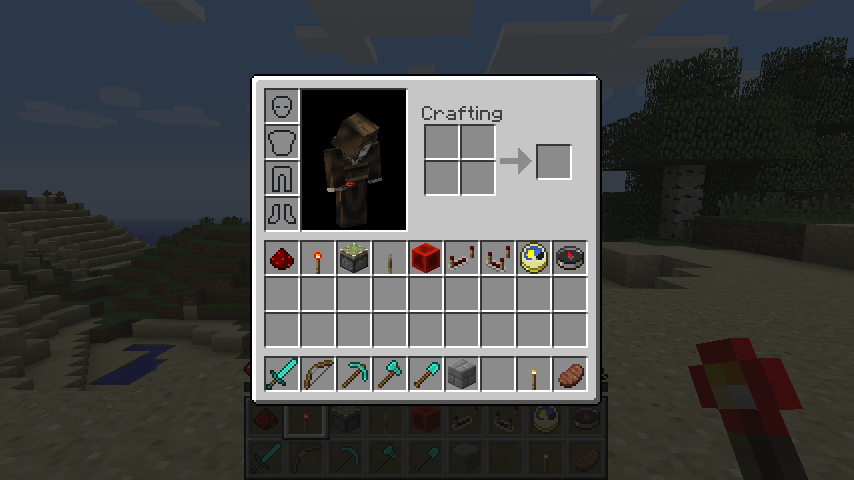 Téléchargement :
[1.7.10] Dual Hotbars[1.7.10] Forge
Installation
Commencez par télécharger Forge Installer. Une fois que cela est fait, ouvrez-le et cliquez sur
Install Client
.
Lancez Minecraft et sélectionnez le profil Forge. Entrez vos identifiants à nouveau et cliquez sur
Play
pour finaliser l'installation de Forge.
Ensuite, trouvez votre dossier
.minecraft
:
Windows : Allez dans le menu Démarrer, puis rendez-vous dans Exécuter. Sinon, faites Touche Windows + R. Ensuite, tapez %appdata% dans la barre de recherche, puis allez dans le dossier .minecraft.
Linux : Appuyez en même temps sur ALT + F2. Vous devriez normalement avoir votre .minecraft.
Si vous ne le voyez pas, activez les dossiers cachés avec la combinaison CTRL + H.
Mac : Votre dossier minecraft se trouve dans Utilisateur > Bibliothèque > Application Support.
Si vous ne trouvez pas Application Support, faites Finder > Barre des menus : Aller + Maintenir ALT > Bibliothèque.
Glissez ensuite le .jar de votre mod préalablement téléchargé dans le dossier mods, qui se trouve dans votre .minecraft.
Lancez le jeu, et amusez-vous bien !