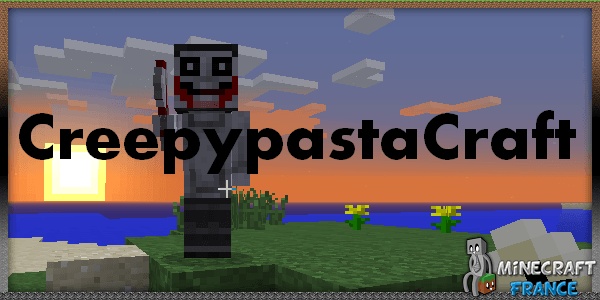 Auteur :  ntzrmtthihu777
Version de minecraft : 1.7.2/1.7.10
Creepypastacraft est un mod assez ancien (existant depuis la 1.5 il me semble), rajoutant des creepypasta.
Les creepypasta sont des histoires montées de toutes pièces et diffusées sur le web, destinées à faire peur. Le terme « creepypasta » est un mélange de copypasta (littéralement « copier/coller »), qui est un contenu relayé frénétiquement sur internet. Et de creepy « effrayant ». Pour plus d'infos ou d'exemples, je vous propose de faire un tour sur Wikipédia.
Cependant, ce mod peut être effrayant, c'est pour ça que je conseille aux personnes sensibles de partir maintenant (c'est juste un avertissement standard, je sais pertinemment que vous ne le suivrez pas).
---
Les items:
Le mod est articulé autour d'un objet, le laptop « Ordinateur portable ».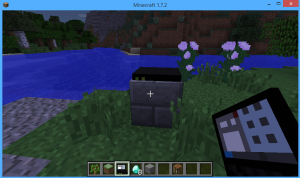 Le Laptop se crafte difficilement, mais il permet d'obtenir des archives, qui permettent d'invoquer les créatures, elles fonctionnent comme un œuf de créature.
Pour invoquer les personnages de creepypasta, il vous faut une archive. Pour obtenir une archive, il vous faut ouvrir l'interface du laptop et y mettre une feuille de papier.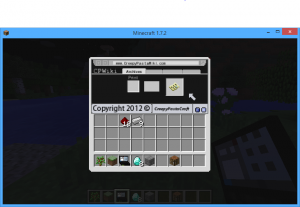 Une archive est ainsi créée au hasard parmi toutes les créatures ajoutées par le mod.
La couche:
La couche est le premier item, il ne sert à  rien et se crafte facilement.Vous pouvez la porter pour le fun, elle ne sert à rien mais vous donne un petit côté… bébé.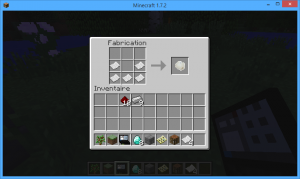 Les pâtes:
Le deuxième item est juste pour le jeu de mot, il s'agît de… pasta (pâtes), oui, ils ont osé. Les pâtes se craftent simplement et ne nécessitent pas de table, il faut juste mettre du blé sur la case supérieure à celle d'un bol, comme montré sur le screen suivant :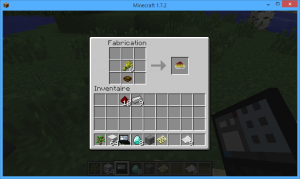 La crosse du forgeron:
Ce mod rajoute également une arme, la crosse du forgeron, qui peut spawner dans les coffres des forges des villages. Cette crosse vous fait subir l'effet « Wither » et l'effet « Cécité » jusqu'à ce que vous ne l'ayez plus en main et même deux secondes après que vous l'ayez retirée. Lorsque cette arme est équipée, vous ne pouvez pas voir les dégâts que vous subissez, tous les cœurs étant noirs. Cette arme inflige 5 cœurs de dégâts (un dual shot pour un Creeper et un One-Shot pour un Cochon)(Notez que je porte une couche sur le screen).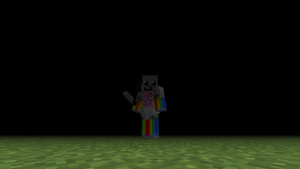 Le couteau de Jeff  The Killer:
Le couteau de Jeff est droppé par Jeff the Killer si il est tué par Jane the Killer, c'est une arme très puissante, et très stylée aussi vu qu'elle vous donnera un air de psychopathe tueur de chaton (cela dit, j'espère que vous n'allez pas faire de mal à vos petits chats), elle inflige huit cœur de dégâts par impact. Oubliez donc vos épées en Diamant Sharpness V, vous avez ici de quoi égorger un cochon, mais évitez de faire du bruit.
Le CD de Lavanville:
Ce mod rajoute également un CD de la musique de Lavanville (Lavender Town), pour la petite histoire, la creepypasta parle d'une musique de cette ville dans le jeu pokemon Rouge et Vert, qui aurait poussé au suicide de nombreux enfants Japonais. Cela fait partie du « syndrome de Lavanville », qui serait en rapport avec les suicides, liés à la présence d'un enterré vivant, de spectres, de mains blanches et du Pokémon 731.
Le Stephano:
Pour finir, un objet nommé le Stephano est disponible, il est droppé par Pewdiepie. Si vous le lancez, il explosera. Cependant son champ d'action est très court (un bloc seulement)
---
Les mobs:
Tous les mobs doivent être invoqués par les archives créées au préalable via le Laptop.
Jeff The Killer:
Jeff the Killer fait partie des creepypasta les plus connues. Pour la petite histoire, Jeff est un jeune adolescent qui, après s'être battu et avoir été grièvement brûlé au visage, est devenu totalement fou et s'est brûlé les paupières et s'est dessiné un sourire avec un couteau en entaillant ses joues. Par la suite, il a tué ses deux parents et a tenté d'assassiner son petit frère.
Jeff the Killer nécessite une archive ou un œuf de créature pour exister :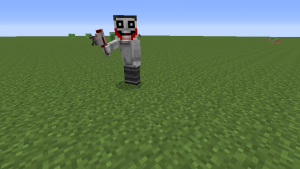 Oh qu'il est laid
Jeff the Killer est très dangereux. Il dispose d'une vingtaine de cœurs et inflige huit cœur de dégâts par coup, il est recommandé d'avoir une armure entière ainsi qu'une épée en diamant pour tenter de le tuer.
Il se battra automatiquement avec Jane the Killer si elle est dans le coin, mais préférera toutefois vous tailler un sourire en priorité. Plus intéressant ? Il ne droppe rien, sauf si vous l'assassinez avec Jane the Killer, auquel cas vous recevrez son couteau, et là, vous aurez une arme nettement plus puissante qu'une épée en Diamant Sharpness V.
Jane The Killer:
Jane the Killer, vous vous en doutez, à un rapport avec Jeff the Killer, mais ce qui est intéressant, c'est que Jane n'est pas méchante et voudra tuer Jeff. Si elle y parvient, ce dernier vous dropera un couteau de Jeff.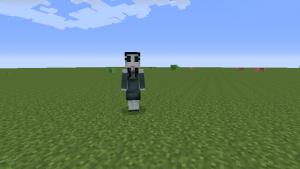 Elle dispose d'autant de vie que Jeff the Killer et tape aussi fort (du moins il semblerait), elle aura tendance à se jeter sur Jeff dès qu'elle le verra. C'est généralement elle qui gagne, mais il faut que vous arriviez à survivre le temps qu'elle finisse Jeff, sachant qu'il a tendance à vous attaquer en se faisant taper dessus. Elle ne droppe rien, et ne riposte pas quand on l'attaque (cela dit c'est idiot de le faire).
The Strider:
The Strider est, selon la légende, une créature qui mesure cinq mètres, à un visage canin et une fourrure noire et est censée tuer des animaux en arrachant leur pattes (quelle poésie…). Si un être humain le suit, il le traquera jusqu'à le tuer.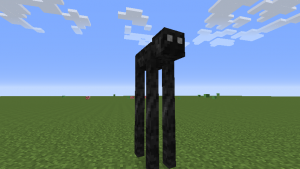 Il est possible de chevaucher le strider en faisant un clic-droit sur lui, on peut en descendre en faisant L-SHIFT (par défaut). Le plus (ou moins selon vous et vos valeurs) intéressant est que le strider n'attaque pas l'homme et ne démembre pas les animaux (Dommage, me direz-vous), il ne riposte pas quand on l'attaque et ne fait que prendre la fuite, le strider dispose d'une dizaine de cœurs, et ne droppe absolument rien, excepté de l'expérience.
Eyeless Jack:
Eyeless Jack (ou Jack Sans Yeux), est, dans la creepypasta, une créature ayant des trous béants à la place des yeux, qui laissent couler un liquide noir, il a tendance à voler les organes des gens (ce qui ne se fait pas en société).
Dans le jeu, Eyeless Jack dispose d'une vingtaine de points de vie. Il a tendance à se téléporter près de vous quand vous dormez (bonjour le cauchemar), et il spawne parfois dans les forêts, dans l'obscurité.
Il a ne droppe rien non plus et Jane the Killer ne lui fait rien. Autrement dit, c'est plus dur que pour Jeff the Killer. Il inflige un dégât par coup, mais le plus rigolo, c'est qu'il peut vous mettre le feu. Il est recommandé d'avoir une bonne armure et de la résistance au feu. En parlant de flammes, il ne s'enflamme pas, vous pouvez tenter de crafter un briquet, mais ça ne servira à rien.
Squiward's Suicide:
Squiward's Suicide est une creepypasta très connue, elle raconte l'histoire d'un épisode perdu de Bob l'éponge, dans lequel Carlos se suicide, la vidéo est, d'ailleurs, accessible sur Youtube, mais est un peu hardcore, je recommande donc aux âmes sensibles de ne pas chercher à la voir.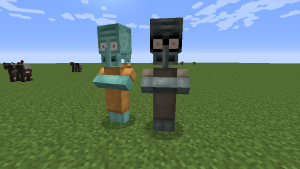 Quelle est l'utilité de Carlo ? Aucune. Il sert juste à rigoler un peu, Carlo ne fait rien, il ne sert à rien, il ne droppe rien, même pas d'XP, il a une dizaine de points de vie, mais, si vous faites un clic-droit, il prendra son apparence d'avant son suicide selon la vidéo présente sur internet et mourra (et je sais parfaitement que c'est la première chose que vous allez faire car avouez que vous adorez voir souffrir Carlo). D'ailleurs, sur le screen, on peut voir un Carlo au bord du Suicide (à droite du screen), et un Carlo qui va bien (à gauche)
Mothman (Homme phalène):
L'homme-phalène est une sorte d'homme-papillon apparaissant avant des catastrophes selon la légende.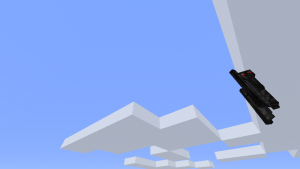 Mothman peut spawner dans n'importe quel biome, il est inoffensif et dispose de 20 points de vie et il peut voler (en gros, à part si vous voulez voir de gros machins voler dans le ciel ou si vous voulez faire comme dans la légende en bourrant un village de TNT et en le faisant spawner, il ne sert absolument à rien).
The Rake:
The Rake est une créature qui a tendance à apparaître au pied du lit de ses victimes, vous regardant, vous donnant envie de mettre fin à vos jours tout en vous murmurant des choses (oui, le suicide est très présent dans les creepypasta)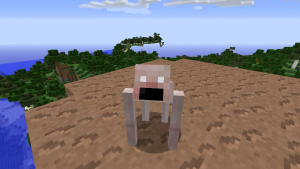 N'est-il pas mignon ? Dans ce jeu, ce qui l'amuse, c'est de vous poursuivre. Une fois que vous l'avez vu, vous êtes mort, pourquoi ? Hé bien parce que dès qu'il vous a vu, il devient pire qu'un enderman, là où un enderman vous poursuit en se téléportant et prend peur de l'eau, the rake court à la vitesse de l'éclair. Il dispose de 24 cœurs de vie (oui, plus que Jeff the Killer ou Eyeless Jack). Il inflige cinq cœurs de dégâts, et droppe de la viande de porc crue.
Smile.dog:
Smile.dog (ou Smile.jpg) est une image, montrant un chien, généralement un husky (c'est parfois une drôle de forme humanoïde), qui sourit en montrant ses dents acérées, et, cette photo… provoque des envies de suicide (encore ?). Bien entendu, cette histoire est fausse, mais les images trouvables sur le net peuvent mettre très mal à l'aise voire être très flippantes, sans même connaître la légende.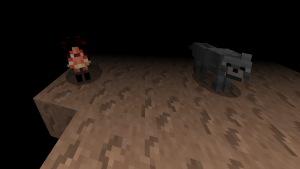 Le smile.dog occupe réellement une place de screamer dans le jeu (bien que the rake puisse aussi vous faire crier dès que vous le verrez, mais pas pour les mêmes raisons) car dès l'instant ou vous poserez les yeux dessus (un peu comme pour un enderman), il se mettra en tête de vous assassiner, vous infligeant immédiatement l'effet « Cécité » et l'effet « Nausée », et prenant l'apparence qu'il a sur certaines images. Il spawne dans les forêts, mais heureusement ce n'est que très peu fréquent. Tant qu'il n'est pas transformé, il ressemble à un loup normal, bien qu'ayant un pelage légèrement plus foncé (visible à droite du screen), dès qu'il est transformé, il a une couleur rouge et une espèce de sourire démoniaque (visible à gauche du screen).
Le smile.dog dispose d'une vingtaine de cœurs et inflige huit cœur de dégâts, associé à l'effet « cecité » et à l'effet « Nausée », c'est parfait pour vous éliminer encore plus vite que the rake. Il est recommandé d'avoir au préalable un couteau de Jeff et une armure intégrale en Diamant (bien qu'il parvienne à vous infliger un cœur de dégâts par coup).
Pewdiepie & Cryaotic:
Pewdiepie et Cryaotic sont deux let's playeurs. Ils ne peuvent être que trouvés « à l'état sauvage », il est impossible d'obtenir une archive. Ces deux personnages sont entièrement inoffesifs.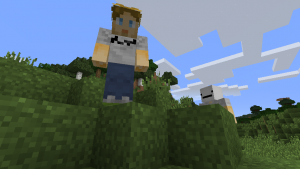 Pewdiepie (situé à gauche) dispose d'une dizaine de cœurs, et, à sa mort, droppe un Stephano.
Cryaotic (à droite du screen), lui, dispose d'une vingtaine de cœurs, si vous le tuez, il droppera une larme de Ghast.
The Seed Eater:
The Seed Eater à une fâcheuse tendance à manger les enfants, selon la creepypasta.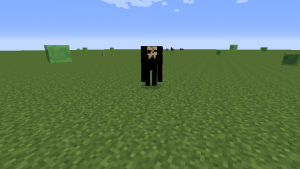 Le Seed Eater est parfaitement inoffensif, il dispose d'une vingtaine de cœurs et adore tuer les bébé-villageois. Il spawne parfois durant la nuit.
---
Téléchargement :
[1.7.10] Creepypastacraft[1.7.10] Forge
Installation
Commencez par télécharger Forge Installer. Une fois que cela est fait, ouvrez-le et cliquez sur
Install Client
.
Lancez Minecraft et sélectionnez le profil Forge. Entrez vos identifiants à nouveau et cliquez sur
Play
pour finaliser l'installation de Forge.
Ensuite, trouvez votre dossier
.minecraft
:
Windows : Allez dans le menu Démarrer, puis rendez-vous dans Exécuter. Sinon, faites Touche Windows + R. Ensuite, tapez %appdata% dans la barre de recherche, puis allez dans le dossier .minecraft.
Linux : Appuyez en même temps sur ALT + F2. Vous devriez normalement avoir votre .minecraft.
Si vous ne le voyez pas, activez les dossiers cachés avec la combinaison CTRL + H.
Mac : Votre dossier minecraft se trouve dans Utilisateur > Bibliothèque > Application Support.
Si vous ne trouvez pas Application Support, faites Finder > Barre des menus : Aller + Maintenir ALT > Bibliothèque.
Glissez ensuite le .jar de votre mod préalablement téléchargé dans le dossier mods, qui se trouve dans votre .minecraft.
Lancez le jeu, et amusez-vous bien !