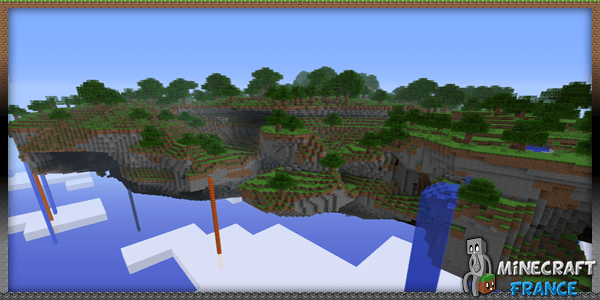 Auteur : ted80
Version de Minecraft : 1.7.10
Version du mod : 1.2.1
Better World Generation 4 est un mod réalisé par ted80. Il permet d'avoir de nouveau mondes à générer tel que des map survivals, des maps aériennes mais également des maps ressemblant aux anciennes versions tel que la bêta ou l'alpha.
Pour choisir la génération que vous souhaitez, il suffit d'aller dans Create to World puis de cliquer sur More World Options. Allez ensuite dans World type : et choisissez celui que vous voulez. Voici la liste :
Better Default :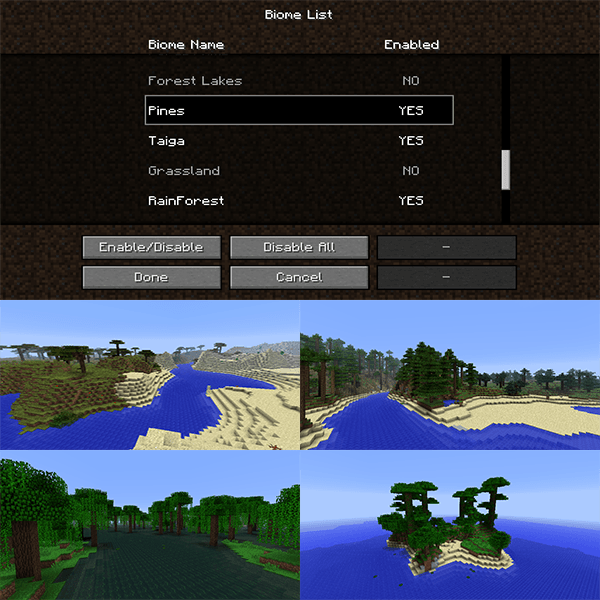 Vous avez toujours rêvez de pouvoir choisir précisément quels biomes vous vouliez pour avoir une map parfaite ?
C'est merveilleux n'est-ce pas ?
Beta :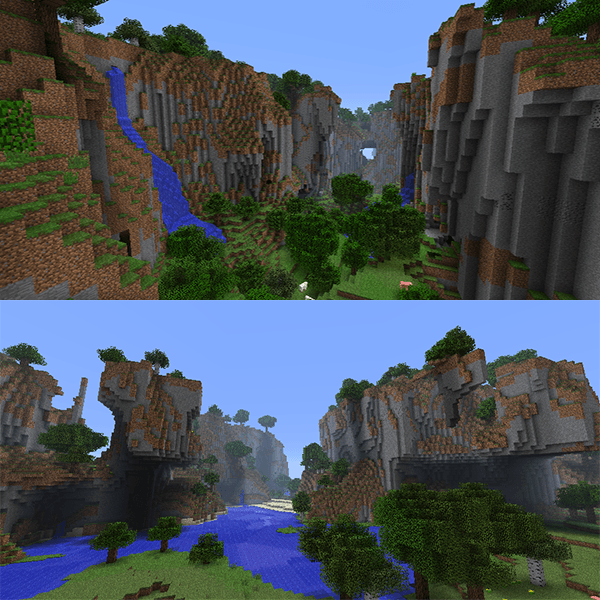 Je ne sais pas vous, mais je trouve ces falaises magnifiques !
Alpha :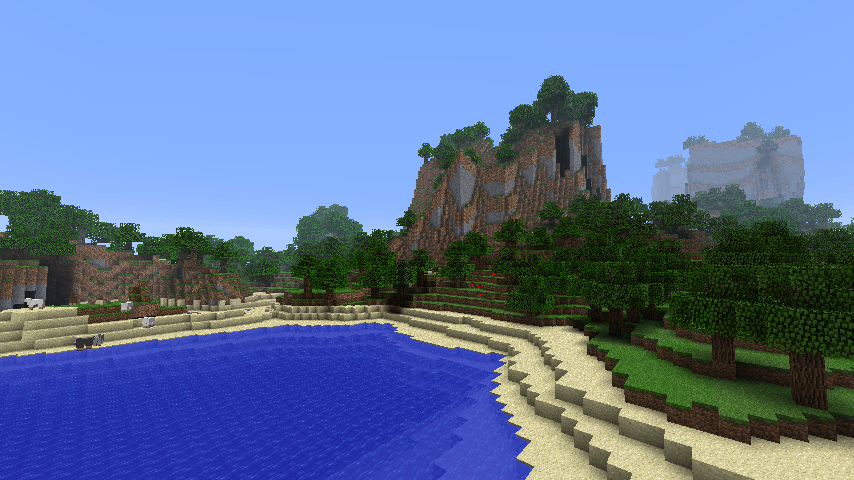 Que dire de plus ?
Une génération à l'ancienne, avec un terrain cependant plus abouti, et peut-être un petit peu plus de relief.
Si la version alpha de minecraft vous manque mais que vous voulez tout de même profiter des ajouts de Mojang, alors c'est le type de génération qu'il vous faut.
Infdev :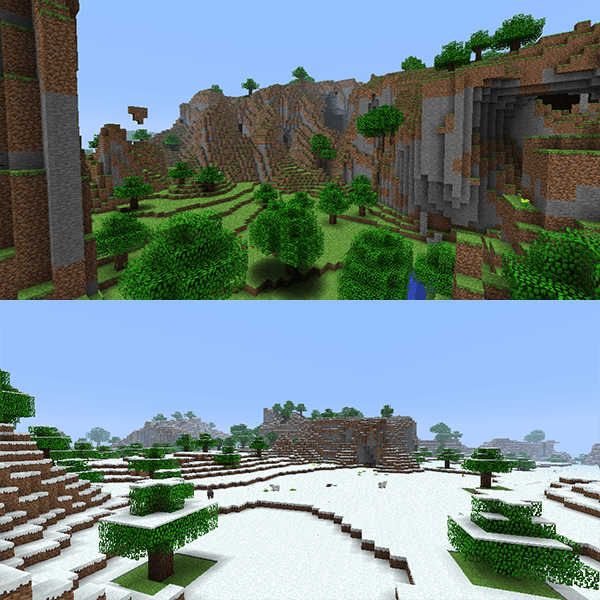 Ce mode de génération a deux versions, la version normal et la version Snow World, monde enneigé.
Vous retrouverez ici la génération telle qu'elle était quand Notch a implémenté les cartes infinies.
Indev :
Ce mode de génération a lui aussi plusieurs versions qui ont elles-mêmes plusieurs thèmes.
C'est le mode de génération le plus… bizarre ? Plus ancien encore que la version Infdev.
Si vous aimez les générations truffées de bizarreries en tout genre, ne cherchez plus.
Survival Island :
Survivre ou ne pas survivre, telle est la question.
Vous n'aurez aucun mal avec la version "paradise" de cette génération.
Essayez donc avec la version tropical, une toute petite île tropicale où l'espace est restreint. Céderez-vous à la folie ?
Ou encore, la pire, la version normal ! (Il faut avouer que le nom fait peur) Une île encore plus petite, déserte cette fois-ci.
Un arbre. Un cactus. Une canne à sucre. Relèverez-vous le défi ?
Survival Skyland :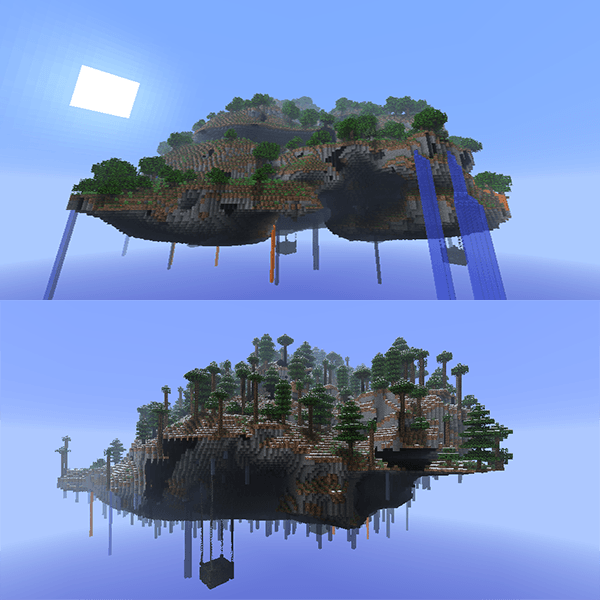 Survivre sur une île, c'est bien.
Survivre sur une île volante où l'on risque à tout moment de mourir à cause d'un simple moment d'inattention, c'est mieux !
Survival SkyBlock :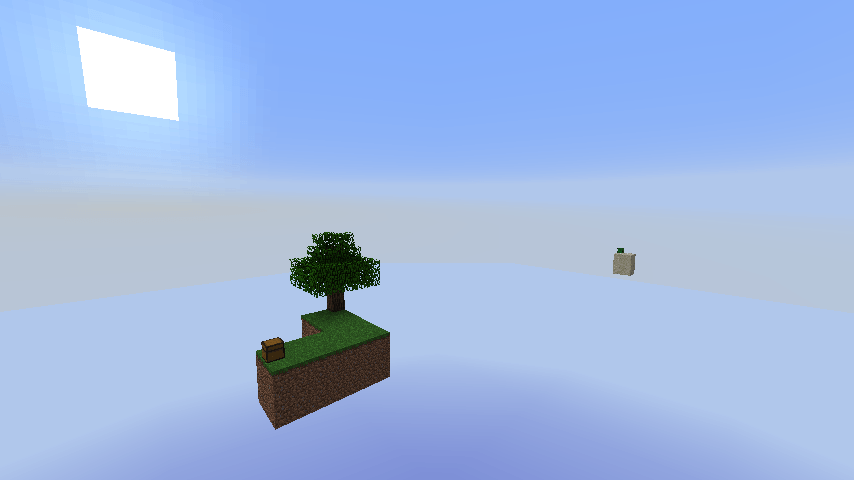 Je suis sûr que vous connaissez le principe !
Et vous n'avez pas le droit à l'erreur.
Survival CaveWorld :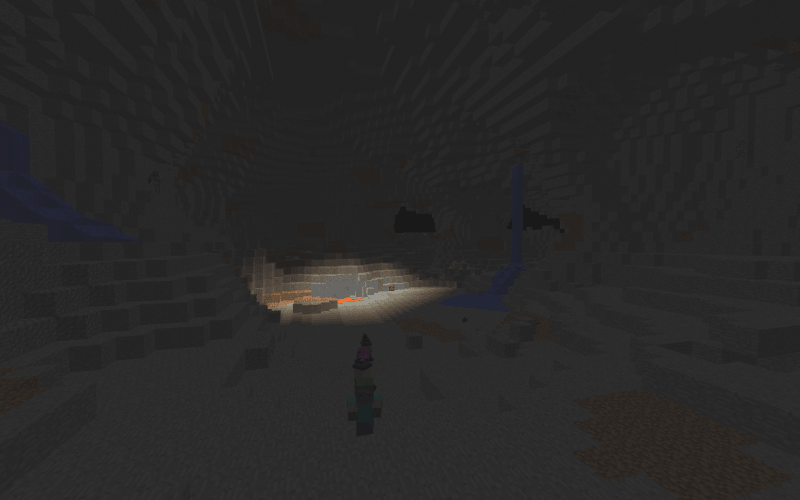 Ici, aucune issue. Vous allez devoir survivre dans cette cave sans fin.
Conclusion :
Vous pourrez trouver quelques seeds très sympas proposés par des membres :
Voir les seeds
Default :
"1754528135220466412" (Snow biome + village + epic mountains)
"321539913" (mushroom biome)
"-1108354464" (Survival island)
"708" (Survival island)
"-578219892" (Small islands)
"1813471159" (Village at X:359 and Y:262)
"-6505697128296052630" (Village at X:-265 and Y:296)
"-2502472139952767457" (Village at X:-260 and Y:217)
Beta :
"Werewolf"
"Aether Collab"
"Roughsauce"
"Wolf"
"404"
"gargamel"
"-9028489474908844496"
"2409838883250561605"
"-9028489474908844496"
"5682930821"
"5677344492879191995"
"1363181899730807241"
"Glacier"
"-1784338777788894343"
"-6555642694674147910"
"4042531831790214307"
"-442650539972332399"
"Invinsible"
"-2945350671081178213"
"Dead Mau5"
"9000.1"
"-780636540"
"5944220116861330522"
"-6362184493185806144"
"1474776471"
"1541961902"
"-8388746566455332234"
"729"
"Elfen Lied"
Alpha:
"3899116594718863514" (awesome mountains at X"-690″ Z"-339″)
"6868034080387294500"
Sky Dimension:
"5685355068192636854" (snow seed)
"106552323" (snow seed)
"-4470614493600933120" (jungle seed)
Téléchargement :
Forge [1.7.10Better World Generation 4 [1.7.10]
Installation
Commencez par télécharger Forge Installer. Une fois que cela est fait, ouvrez-le et cliquez sur
Install Client
.
Lancez Minecraft et sélectionnez le profil Forge. Entrez vos identifiants à nouveau et cliquez sur
Play
pour finaliser l'installation de Forge.
Ensuite, trouvez votre dossier
.minecraft
:
Windows : Allez dans le menu Démarrer, puis rendez-vous dans Exécuter. Sinon, faites Touche Windows + R. Ensuite, tapez %appdata% dans la barre de recherche, puis allez dans le dossier .minecraft.
Linux : Appuyez en même temps sur ALT + F2. Vous devriez normalement avoir votre .minecraft.
Si vous ne le voyez pas, activez les dossiers cachés avec la combinaison CTRL + H.
Mac : Votre dossier minecraft se trouve dans Utilisateur > Bibliothèque > Application Support.
Si vous ne trouvez pas Application Support, faites Finder > Barre des menus : Aller + Maintenir ALT > Bibliothèque.
Glissez ensuite le .jar de votre mod préalablement téléchargé dans le dossier mods, qui se trouve dans votre .minecraft.
Lancez le jeu, et amusez-vous bien !