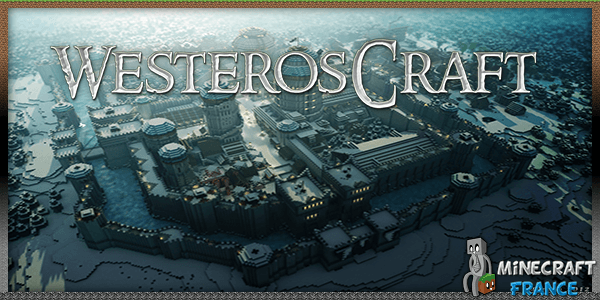 Je vous vois déjà accourir, grands fans de la célèbre série Game Of Thrones. Vous aurez sûrement reconnu le nom du continent Westeros, dans le titre de l'article. Et comme vous avez pu le deviner, la région a été faite dans Minecraft ! En effet,  une team de contructeurs s'est lancé dans la construction de Westeros, avec les villes, les bâtiments, les paysages, les forêts… Le tout est vraiment très ressemblant et très bien réalisé, un travail vraiment titanesque ! Je vous laisse donc découvrir quelques screenshots, et je vous expliquerai comment visiter vous-même cette magnifique map.
Screenshots :
Cliquez sur les images pour les voir en taille réelle.
Dynmap :
Une Dynmap et un Overviewer sont à votre disposition à ces adresses :
Visite sur le serveur :
Vous pouvez visiter la map sur le serveur officiel, parler avec les constructeur, et même construire des choses vous-mêmes ! Attention cependant, tout est en anglais, donc si vous avez du mal avec la langue de Shakespear, contentez-vous de visiter, ou téléchargez la map.
IP : mc.westeroscraft.com:25565
Téléchargements :
Vous pouvez aussi télécharger la map, divisée en trois parties :
Kings Landing (Port-Réal)
The Dreadfort (Fort-Terreur)
Winterfell
Il y a aussi un texture pack obligatoire pour vous plonger dans l'ambiance de la série, veillez à bien le télécharger et à patcher votre jeu avec MCpatcher ou Optifine !
Winterfell Fort-Terreur Port-Réal
Installation
Allez dans le dossier .minecraft. Pour cela, ouvrez minecraft.exe et cliquez sur ce lien encadré en rouge :

Vous allez être directement dans le dossier .minecraft. Ouvrez ensuite le dossier saves, et glissez le contenu du zip. Vous n'avez plus qu'à lancer le jeu et sélectionner la save.